Okay I finally managed to compile my Spore pictures and combine it. Cause I know some of you guys don't really like to read long long grandmother stories and some told me they just scroll pictures. Nah! Scroll la! Haha

Big C went for training the day after we reached Spore. So only left the mother and the lil one in the hotel all alone. So every morning we will sleep till 10am and then we will walk out for makan makan session at the nearby flats.

The 2nd day, I enrolled for a Ducktour around the city and the river. But before the tour we need to get to Suntec City to get our tickets. So we went for a ride in the double decker bus. He liked it at first then he began to get irritated cos the wind was blowing towards his eyes.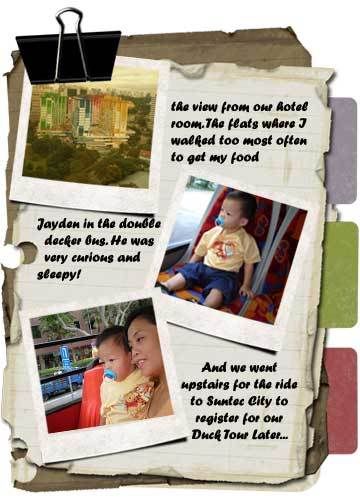 And the tour guide, talk and talk and talk non stop......
and Sasha snap and snap pictures non stop...
Finally we got our tickets but we need to wait for another hour. So we took a quick bite of Nasi Lemak and Teh Ais before we went on the boat ride. The vehicle is actually a land and water kind of vehicle. And we're the last one to go on it, and there's no other seat available except the front seat nearest to the driver and the tour guide was just next to us. Talk and Talk and Talk again!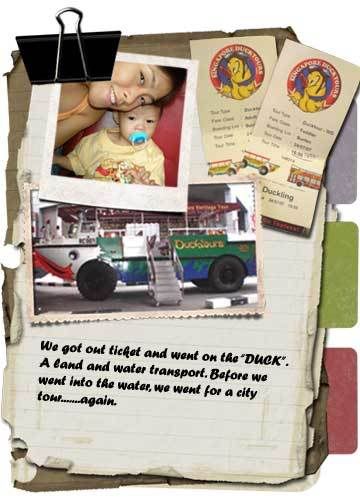 Nothing special for the boat ride, Jayden slept after 20 mins of the boat ride. According to the tour guide, the river that we're at will be converted into a damp or water reservoir just in case Malaysia won't supply them water in the future. Okay, that's a good plan!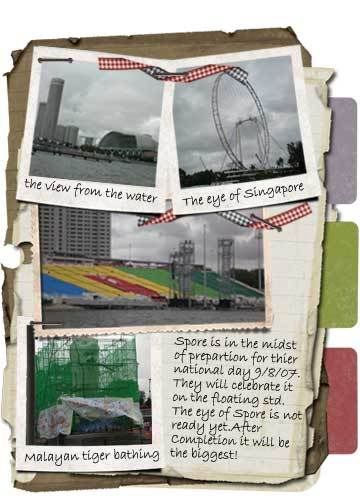 Every night both Jayden and mami will look forward for Dadi's return from training. Then we will go for our dinner and walk walk around our hotel area. Our hotel area is near to Bugis night market. So lotsa things to SEE and buy. (But I didn't buy many things la..not working edi ma. Save money lo) Jayden was so impressed with the Giant Fan in the Bugis night market. It was so windy and nice......But most of the time it was raining in Spore so when the rain comes..brrrrr cold!

The next day, I enrolled ourselves to Jurong Bird Park visit. We took the 2pm tour cause the earlier one was at 8am. Both mother and son still in lalaland how to wake up leh??? And there's another 2 ladies from Dubai that joint us in the same van. They're so nice. The daughter ( she looked the the hottie Ashwarai something something leh....) helped me to carry Jayden and also the stroller while we're at the park.

But those who wish to go Jurong Bird Park, I suggest that you go early in the morning cause you won't be able to see all in 3 hours only. Our tour was an express one! The tour guide repeated told us
"You need to go straight to the amphitheater to see the Bird Show. International Standard! Don't miss it!Then after that, don't take picture! Go straight to the monorail! Don't go down! wait until you reach the point and go straight to the Hawk show! Then you have 15 minutes to take picture! I will wait for you at the entrance at 4:45pm. Okay? Remember!"
The next day was just roaming around the Orchard road. Dang! It rained like mad that day. And I tell you it's so hard to travel around with him in the stroller and umbrella. Not many places in Spore is stroller/wheel chair friendly. I gotto carry him in the strolller up and down the stairs. And please remember that most of the restaurant do not have baby chair, except fast food outlets like McD or KFC.
The last day I woke up with a cacated right leg. Don't know why it was so painful but I think I sprained my leg or walked too much. But a mother got to do her duty. Still gotto walk out to buy breakfast. And it was a rainy day again. *sigh* But luckily it was the last day.
Since the journey to Spore was a mental one (read about the road bully
here
) on the way back I was praying all the way back from Spore until we reached our house. Thank god it was a smooth journey. Luckily no more road bullies or accident along the way.
So as conclusion,
Dadi happy cause he don't have to miss home.
Mami is happy because she get to be with both the guys that she love.
Jayden is happy because he get to travel in the bus, taxi, boat, MRT and Monorail. Only never get to ride bicycle. And get to swim in the bath tub everyday. And don't need to walk cause he travel most of the time in the stroller and get to see many many things. Buildings, fish, birds, vehicles blablabla...
Related post: