So we are trying to sort out what to throw and what to keep for No.2 to use and we found this old bassinet. Jayden used to use this basinet just for a few days only cos I find it hot for the baby to sleep in it. Bouncing net is much a better option due to the weather in Malaysia. Anyway since it was given to us, I find it sayang to throw it away. So I took it out and let it stay under the sun for a good few hours thinking that I can reuse it for No.2.
And guess who's enjoying it?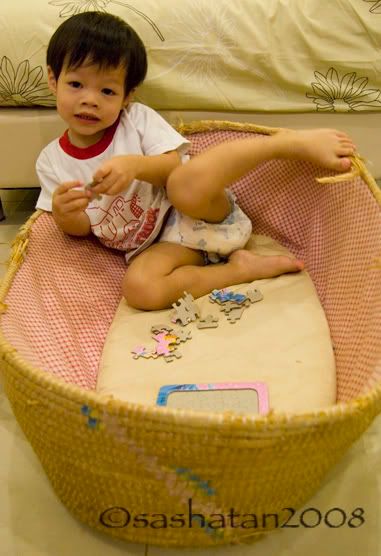 Jayden says: (c)Amera? Cheese..................
Yeah he's been using it as a playstation for himself. Dumped all his puzzle, his cars and whatever he wants to dump in it.
Last night I asked him,
"Jayden, Elmo wanna sleep. Can elmo sleep in the basket?"
I passed him a blanket and a
smaller Elmo pillow which was initially hand-sewn for him to bring to daycare
but he rejected it. At first he placed Elmo into the basket and covered Elmo with his blanket. Then I think he changed his mind and hop into the basket and even placed a pacifier for Elmo and watched tv.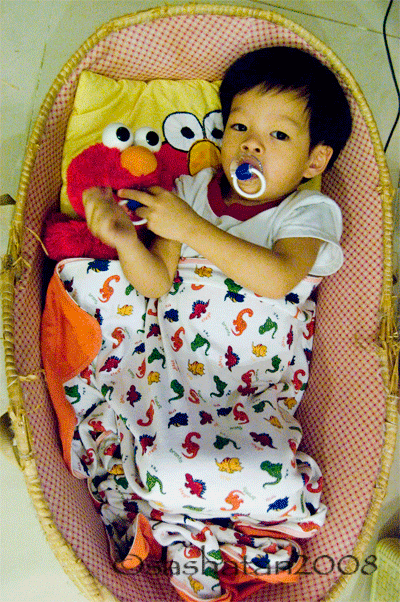 I asked him again
"Do you want to read a book for Elmo?"
He got up and took the book that
Amy
sent for No.2 and started point and said the animal names to Elmo. And then he sang " La La La La " ( to rock a bye baby song tune) and pat Elmo. But I tell you, if that is a real baby, I think the baby will have internal injury already. Hahahahah