Remember last week I wrote that it seems like forever Monday and Tuesdays I need to take emergency leave to handle Jayden? This week is no different. On Saturday night, we noticed that there were a few red dots on his legs and we thought it was just some rashes. Then I was cleaning up the drawer and took out the thermometer. Jayden saw and he asked me to play doctor with him. So we tested his temperature and it was 38.9. He was having high fever but there weren't any signs and he was cold. And then we checked his body again, now red dots on his legs and his hands. Yeap, it was
HFMD
. No wonder he cried in the middle of the night and kept telling me "I sad..I sad.."
So we brought him to the hospital and doctor couldn't spot any ulcers in his mouth cos cheeky monkey refused to open the mouth for her to see. So she suspected that he has HFMD and she asked us to go home and monitor him.

On Sunday, I checked his mouth and found this.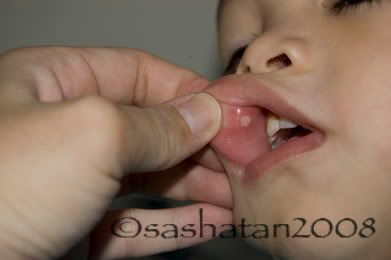 He was drooling most of the time and couldn't close his mouth. Sunday night we took him to Yenjai and confirmed, he was having HFMD. He advised us to get this...


That drop (Cataflam) costs me rm51.70. If you're looking for this, just go straight to Guardian and please make sure you go before 7.30pm, that's when the pharmacists go home. This drop eases the pain in the mouth. We tried Nurofen (many pharmacy will recommend this) but it doesn't help much. Just imagine we adult have one ulcer in our mouth and its so painful. Jayden has at least 7 in his mouth-not including those hidden ones. Last night he slept well after taking the drops. (but I cannot sleep *slap forehead*)

As for the dots on his legs, its tiny but contains water. He sometimes will scratch it and tell me its itchy. So we just apply the calamine cream and he's up and running after applying the cream. Like magic cream!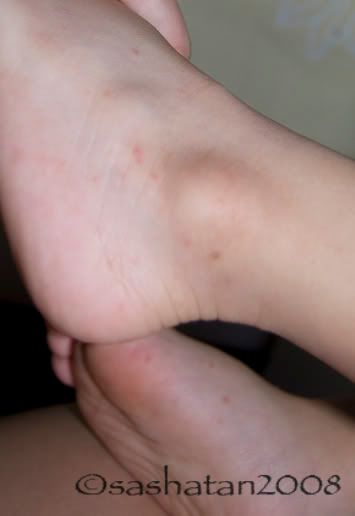 He doesn't look like he's sick.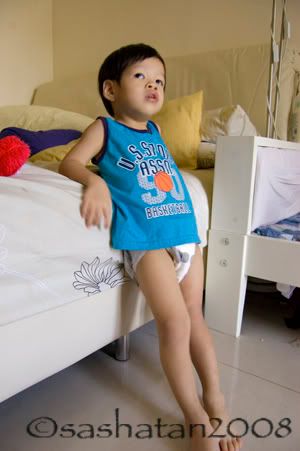 Sometimes he will just cry and cry and tell me that he's sad. He obviously miss drinking his milk but he cannot suck his bottle. So we gave him sippy cup and he drink much lesser now. He cannot really eat, so I'm like a broken record, kept asking him "Jayden you want this?..jayden You want that?" All he answered me was *shake head*. It's very stressed to see him wanting to eat but cannot and when he can eat (after the drop) he has no appetite to eat. And when he eat, he will spit it out, proly his mouth is so painful and he cannot swallow. I just fed him lunch (rice with soup) and he ate quite a bit, the most in these few days. That's also because I played some youtube Thomas video for him and kept telling him "Thomas ask you to eat rice then only he swallowed *slap forehead* Listen to Thomas also dun wanna listen to own mother.

I just called the daycare and asked if anyone else got it and the clerk told me that they found a kid in the daycare with HFMD and sent him home. I tell you, sometimes some parents are just so irresponsible. The kid is sick and yet still wanna dump the kid there and spread to the rest.

*sigh* I'm very tired edi. I'm very very very tired. Mentally, physically and emotionally. I don't know how to explain how I feel edi. I just wanna say..please give me a break. I really need a break.