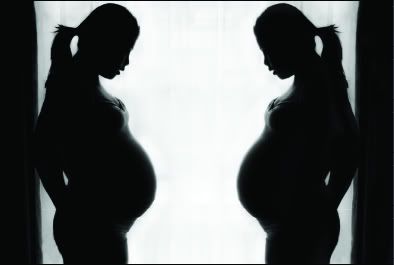 Me in week 32.
Yeap, only 45 days more to go. Not too long, not so soon.
It's like everyone popped and I m waiting for my turn next. Having mixed feeling now. Excited, happy, worried all being mixed up like a nice bowl of fruit rojak *drool*.
Excited because I wonder how my baby will look like since doctor and nurse said that baby looks exactly like korkor. Happy cos there's an addition to this small house.
Worried cos all I have for baby now is a pair of breast waiting to breast feed *lol* and some clothes, hand over from korkor's collection. The cot is still in pieces, the room for the confinement lady is still in a mess. And we still don't know what is gonna happen when I suddenly feel like giving birth in the middle of the night. Who's going to take care of Jayden when Big C is in the delivery room with me? Anyway, let's wait for Big C to come back and then we decide unless baby decide to come out now..........okay, let's not think about that.
The big kor kor is still clueless (I think) about my big belly. All he said was "Baby..." Pointing/stroking my tummy. I think he will be extremely jealous when No.2 comes out. But anyway, in the mean time, I just wanna enjoy our quite moment, alone, together.
Pic from
Tricia's site
.