...the school reopened today after
one week of closure
. I survived 3 days with him in my office and 2 days at home, just the two of us.
The night before I kept reminding myself to go early to school tomorrow, just in case the big guy will give me some difficult time. Afterall, it's been one whole week since he's away from school. Dadi is still away (and will be back tonight *yay*) so I gotto get myself ready for work (took 2 days unpaid leave to stay at home with him cos my principle and boss was around in the office) and also get the big guy ready too.
This morning while I was busy doing something in the living room, the big guy walked out from the room with a shoe in his hands and told me
"Thank You, mi....."
asking me to put on his shoes for him.
After I put on his shoes for him, he walked to the gate and told the dogs
"Bye Cha Cha, siu you"
See you). (Sorry bobo no bye-byes for you.)
And then when I pressed the car alarm, he said "this side..this side" and wanted to open the back door to get in. *scrath head* normally he insists to get into the car from the front side and refused to sit on his car seat. This morning, he went to his car seat and asked me to buckle his seat belt.
When we're about to reach the sch, he said
"Bye Bye School..."
*slap forehead* I corrected him and said "Hi school!" and he giggled. Maybe he knows and he just wanted to tease me. I don't know. As soon as I parked my car he told me "I want pway...." and asked me to unbuckle his seat belt. Off he ran into the school dragging his Elmo bag (a pressie from
lil monster's mom
)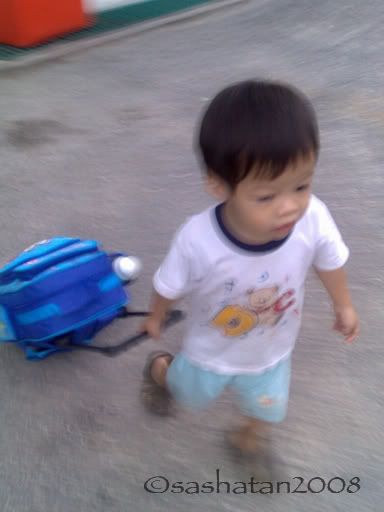 This was taken a few weeks ago when we're on our way home from daycare.
As soon as he saw his teacher, he acted abit shy. Then he went to his teacher, turned around and shouted...
"Bye Bye Mamimi!!"
.