The other day, Big C gotto go to work early. Before he went off, big kor kor woke up and saw his dadidi dressed for work and he showed a very unhappy face cos it's normally Big C that send him off to my car before he goes to school everyday...
Me: Jayden, Dadidi gotto go work now okay?
Big C: Dadidi see you tonight okay? *kiss*
Jayden: *whack Big C* I sad... I sad...
Me: No...Don't hit Dadidi. Dadidi will see you tonight k?
Jayden: *sob* I sad.... I sad....dadidi...work! *turned around and watched tv*
Big C: *sigh*
See how he can make his father feel so guilty...
~~~~~~~~~~~~~~~~~~~
There was one night when he insisted to lie on top of my tummy cos his dad was away for business trip. I refused to let him lie on top of me cos my tummy is really big now and I cannot breath if he lie on top of me. He tried to position himself but I pushed him away and he cried like mad. So happened his dadidi came home...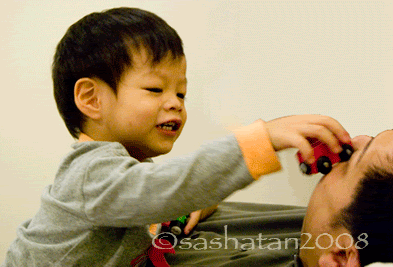 See the tears on his face? Happy la.. cos the father came back to his rescue and even used his dadidi's face as a train track
See la.. all his dadidi's fault cos he lets his son sleep on top of him everynight!
~~~~~~~~~~~~~~~~~~~
Seems like he's dadidi's boy right? Well, I had my sweet moments with him too :P

He was banned from drinking his fav Yakult and any cold drinks since he was coughing. But this lil boy sure knows how to get what he wants.

Jayden: I want Kakult! Okay! *imitating me giving approval* Yay!!!! *run to fridge*
Me: Jayden, No! No Yakult!
Jayden: I want Kakult! Okay! Okay! * take vitagen (Yakult , Vitagen, Solivite - to him everything is Yakult) and tried to look for straws*
Jayden: Mamimi, straw? Peaseeee? *puppy eyes*
Me: *sigh* Okay... No more after this one okay?
Jayden: Thank you mi, sayang u...
~~~~~~~~~~~~~~~~~~~
The other night when he used my tummy as a table to play puzzle, he said to me:

Jayden: Sayang Baby?
Me: Okay....
Jayden: *stroke tummy and went off to play and came back in 30 seconds time*
Jayden: Kiss baby?
Me: Okay.... Good kor kor
Jayden: *kiss tummy and run away*
Jayden: Hug baby?
Me: Sure :)
Jayden: *hugged tummy*
Jayden: Kiss baby?
Me: Okay :)
Jayden: *kiss* *kiss* *kiss*
Me: Wait wait, I go get camera first. *went to get camera* Okay Jayden come and kiss baby la..
Jayden: ........*smile and run away, refused to kiss tummy anymore*
Me: Arghhhhhhhhh why didn't i put the camera nearer leh?
I wonder how is it going to be when No2 is really out. I think he will be super jealous when he sees me carry another baby since he's so manja with us now. Oh well, just wait and see in another 35 days time.