Oh man..... I must be crazy. I woke up with a really weird dream. I gave birth to 2 small puppies (black and white) and I breast fed one with my left breast. I dreamt that I can pull my nini up and suck it to test whether there are milk coming out or not! *slap forehead* and I fed one of the puppies. And I couldn't bf the right side with the other puppy. I was so damn despressed IN MY DREAMS. Thank god it was just a dream! Actually I was rolling left and right- couldn't sleep before that cos Jayden slept on his own bed last night. Talk about separation anxiety eh? When he slept with me, I felt that I have limited space to move and when he sleeps alone, I miss him. *sigh*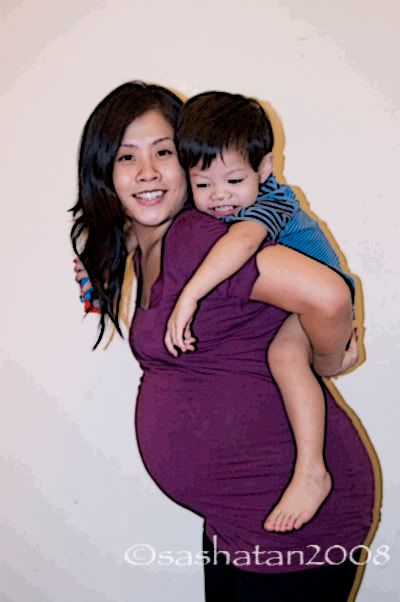 This is how he asked me for an "aeroplane" ride...
Boy... I'm so gonna miss him when I'm in the hospital. I know he will miss me much much too. Ever since he stayed home with me for the past week, he's been very sticky and very loving towards me. Err as you can see here....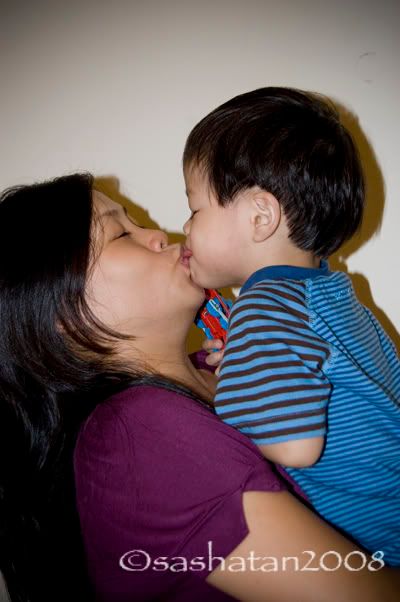 He got used to me working in front of my mac but once in a while he will come and pull me into the room and asked me to dance and play with him. He surprised me one day when he went for a nap himself in his new playtent.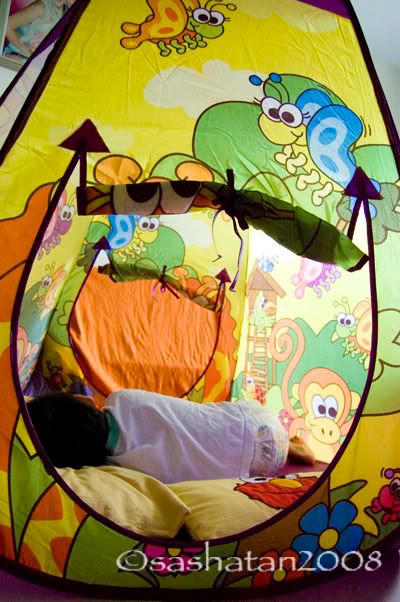 Guess, he knows mami is too busy to tuck him in eh? Anyway, he's going back to school on tuesday. Just wish that the viruses will stop attacking him and give him and his body a break too.
We went to check out the hospital where I will be giving birth cos I have never been there since many many years ago. So we timed and even look for the fastest and shortest way to get there, just in case. I got everything I need (I hope) to welcome no2 abroad. Just one more thing - need the father to recover fast. *pray hard*