Which one you wanna hear first?
Ok.
Good news: Jayden is recovering. Ulcers are getting smaller and appetite is coming back.
Bad news: Since he was sick, whatever he wanted - we give. So, can expect more shouting of "NO" after this.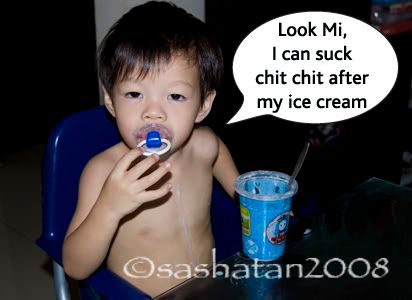 See my Tai Kor sucking his paci after his round of ice cream.
Good News: I didn't get hfmd. I only got a few dots on my legs and hands.
Bad News: Big C got everything including ulcers on the tongue. He told me now he understand how our son felt.
Good News: I'm already starting to work at home. So no more worries about needing to take EL (choi!Choi!Choi!)
Bad News: Working at home means less pay with a pay cut of 1k. *sigh*
Good News: Jayden been staying at home, with me looking after him.
Bad News: He WANTS MY ATTENTION ALL THE TIME! *pull hair* how to work?
Good News: Went for check up last saturday and baby is growing fine. Baby is now 2.6kgs. Bigger than J who was born at 2.55kgs. But say only, won't be so accurate right?
Bad News: I'm loosing weight. (or izit a good news?)
Good News: Baby + CL room is ready.
Bad News: Since J and Big C is down with hfmd, I think its a bad timing for no2 to come now. *sigh*
Good News: I'm applying for maid. Since I'm working from home and no2 is staying home with me. I might even pull Jayden out from daycare since he gets sick so often.
Bad News: No maids until after raya and maybe more bad news when maid come :(
Good News: Confinement lady confirmed that she will come and attend my confinement.
Good News: My bags are packed. :) finally...
Good News: 21 days to go before pop.
Bad News: 21 days to go before pop. Arghhhh! So hard to breath, So hard to sleep. And J is sooooo manja now always wanna carry.