"Sorry to say that Jayden cannot come to school from tomorrow onwards.........until next Tuesday".
Wah.. my heart sank when I heard that. In my mind, I was thinking "rejected again?"
Then I asked "why? What happenned?"
"The education minister issued us a letter saying that our school need to be closed for a week due to chicken pox virus"
*phew* At least he wasn't rejected and he can still go to school next tuesday. Then it hit me. Who's gonna take care of him for that 4 schooling days? *headache*
So, today he's in the office with me.
Played with his ikea train set - Bored with it.
Ate 1 packet of kokocrunch.
2 packets of julie's biscuit.
Watched 3 dvds.
Played with puzzles.
Now, running up and down in the meeting room.
Later, I don't know.
Ah... you might think that I have a very nice boss that allows me to bring my son to work with me eh? Nolah, cos my colleague's kid also comes to the office after his kindy. So what can they say if I were to bring mine right? But the problem is........people's kid can sit and play by himself. Mine likes to come "Mami, I want eat. Mami, I want watch. Mami, I want play. *pick up fone* Hawo? Hawo? Buy Kakult.
And it's only 11.30 am now. He tried to ask me to go home twice edi. How to tahan for one day? Or can I say...how to tahan for 4 days?
Nehmind...nehmind..wait and see how things goes first. Must look at brighter side of life, right?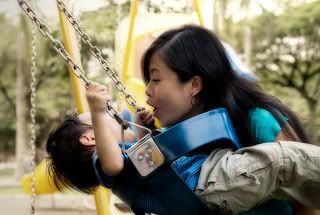 Pic taken by
Tricia
last Saturday. Thanks woman!