This is not a paid post yeah....
I have been looking high and low for this and finally I found it in MyToysAndBooks store the other day. I was so happy and told
AnnieQ
about it and we immediately ordered 7 sets altogether! Yeap, you read correctly, 7 SETS! Cos that's the most she has in stock otherwise we would have bought 10 sets! You see, its not like we're so kiasu and crazy about this. We bought it to keep our kiddos entertained in the bathroom and its also a great gift for kiddos. 
MyToysandBooks.com is always my first choice when I want to send birthday gifts to people. One reason is because they accept payment in paypal. There's not many websites around that accepts paypal payment in Malaysia.
And another plus point, Sue the owner gives very good customer service. Once, I sent a gift to another blogger's daughter for her birthday and Sue actually emailed me asking if it is a gift for someone 'cos the address this time is different from the one I usually send my stuff too. How observant of her! And she actually offered to give me an FOC gift wrap *wink* eh, not everyone get that kinda service okay? I'm her supporter that's why I get the FOC gift wrap *lol*
So did Jayden enjoyed the bath tub crayons?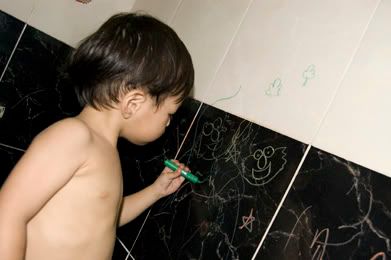 Of course he did!Its a great way to keep him in place while I give him a haircut.
But I gotto be fast cos he will say: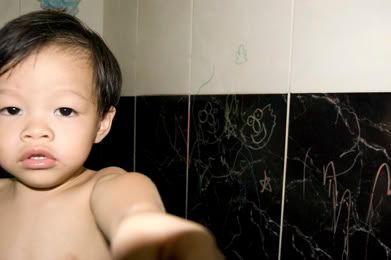 DRAW! I want Elmo. I want Tree. I want NuNU. I want .....I want..... Endless requests!
*pengsan*