I was at home the other day and I though it's been a while since I have cooked dinner for my 2 Chans. So I went to the market, bought some stuff and I played masak masak that day. When I served everything on the table, I laughed so hard and I fastfast ( so long never use this word edi :P) took my camera and snap a pic of the dishes thinking that this pic will be a great pic for the tag about
"frugal lifestyle"
tagged by
Lian
many many moons ago. Big C came home and saw me standing on the dining chair, taking pic of the dishes and he asked me "What happened?". I told him I cannot help but laugh at it. First the dishes look like so kesian , and my cooking somehow sucked so badly! Even the fish also koyak here and there!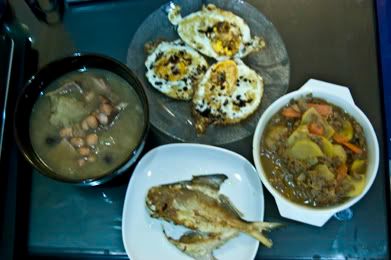 You say kesian or not? Look so pity right? Soup, Fried Eggs, Carrot+potato and pork, and lastly the fish.
When we ate dinner, I can imagine the fish saying...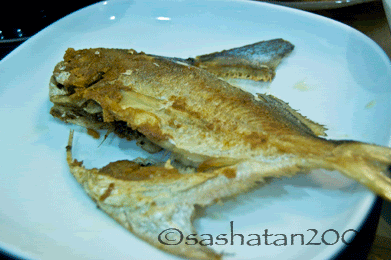 Translation: Pity me..I have not even reached puberty yet..
You know why? The fish size was about my palm size. It's a baby size and it only costs me RM1.50. So when I was frying it, it koyaked so badly I gotto pick up the pieces and put it back in order. Muahahahhahaha
Definitely lost my cooking touch edi! Gotto practise more now...