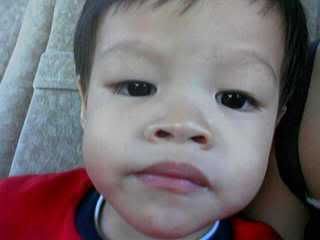 Me...a rejected kid.
Many people told me that they felt the same when they read my "Small in size but big in my heart" post. To be honest, I was worried and think about him all the time cos I know he's not happy at his nanny's place and constantly being bullied by the nanny and another girl in that place.

Lately its been very obvious that they really bully my son. The girl is only 1 but knows very well how to bully him. Every morning she will wait for Jayden to bring his bag and she will ransack his bags and snatch all his toys. And the nanny? She will help to snatch and give all to the precious girl when she run to her and say "Uhuk Uhuk Ming Ming......" and point at my son and the brainless nanny will help to snatch the toy and give it to her. For 2 years, the nanny had never praised my son for anything. It's always complain complain and more complains about him "Mowe Kwai Yung" (useless), Say that he is skinny and doesn't know how to get chubby, Says that he dunno how to talk and only know how to cry. I told her off once, "he is speaking english, Don't you know what he is saying?" And she stopped complaining. She said that he is useless cos he dun wanna to be potty trained and the girl can go to toilet and do her business. Why not leh? The nanny pays 200% to the girl what? Why not? But today I still see the girl in mamy poko diaper. Anyway, wherever the girl does it's always "Pandai....so clever..." Ptuik! Never sleep also clever girl..drink milk in bottle more than 30 mins one kali also clever girl.. Ptuik!

And what is worst? I gotto bring Jayden's toys to the nanny's house EVERYDAY. Why? she just dun wanna leave the toys in her house. And the other day I saw her hiding the puzzle bag on the shoe cabinet when I was about to leave the house and when I went to fetch J, she told me J dun wanna play the puzzle. How to play when she already hid the puzzle in the morning?

And why did i put him there although I know the nanny doesn't like him? Cos I have no choice and I don't wanna scare Jayden with sudden change. At least he thinks that the nanny cared for him. And at least she won't harm him. He will call out "aunty aunty whenever we pass the woman's house" That is how much he care for the aunty but aunty? No love or what so ever feeling towards him although she took care of him since 6 weeks old.

So i told myself tahan for another month. Wait till J get his Hep A jab and I can send him to Playsch + daycare. But on Friday itself when i was driving towards her house, I saw her and J in the garden. They're smiling. But once I got down she gave the look like as if she was so damn tired and was about to die. And told me "Sasha I don't want to jaga your son anymore. He only know how to cry and he likes to jump. I'm very tired"

My reaction? Immediately I laughed out. Don't ask me why I laughed. I was just too (angry? Sad? Disappointed? Happy?) I have no idea what I was feeling and I just asked her "So when do you want to stop?" At one point I wanted to scold her or even tell her off saying that I already knew about it, that she doesn't love my son and yadayadayada and she is lazy and just wanna take care of smaller baby so that they will sleep and sleep and wont walk around like my son. But anyway I just kissed my son and went home. That cheesed her even more. Everytime she complaint about my son, I will just kiss him and hug him tight. Expect me to hit my son and scold him in front of you? Slowly wait la...

So the next day, we immediately brought him to the sch (that I have sourced even before he turned 2) to register and get his uniform. They even told me that I can start on Monday (today). Thank god, I sorta suspected that something is not right and I went to source for the playschool. So everything went like so smooth for us (for NOW). We went home and put him into his uniform and this is how he looked like.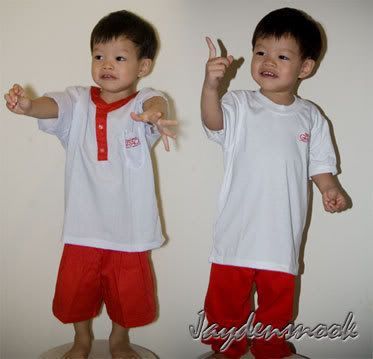 Saying 10 and 1!
We even let him mingle around with some kids at the daycare on Sat. He was busy jumping around like tigger and played together but not with the kids. That's one thing I want him to learn which is to play with other kids.

This morning, he couldn't get up. So i dragged him into the car and once reached, he stood up and saw the sch and happily walked in himself. He went into the classroom himself and wanted to sit at the seat he sat last Sat. But it was taken so teacher asked him to sit next to her.

He was okay at first but then his tigger mojo came and he began to bounce bounce in the class, walk and read alphabets on the wall.
But other than day, he didn't cry except for few occasions when he saw me and asked me to join him in class especially the music class. But overall I think he enjoyed himself. We waited at the gate like other kids and as the bell rang, everyone said YAY!!! and he too shouted YAY but he has no idea what is happening. *LOL*

And when I drove him back to the nanny's place, he began to cry. I left him to buy some lunch for myself and I took a bath before heading to drop some toys for him and he was STILL CRYING. He refused his lunch and as soon as he saw me , he took his slipper and asked me to carry him. And then he calmed down, I whispered to him "mami go work ok?" He yelled "BABAI!" and so i walked out and he CRIED AGAINNNNNNNNN.

Sigh Sigh Sighhhhhhhhhhhhh That is how much he hates the nanny place.

And now that I know (officially) the nanny dislike him, I lagi Susah hati wanna leave him there. I felt like I wanna resign and jaga my kids (no.2 coming in Sept). But then I wanna have my own income so I can have backup plan IF ANYTHING HAPPEN IN THE FUTURE-no one know what's gonna happen anyway. i gotto decide soon cos I gotto pay the sch in May already- whether its half day or full day (daycare). But i sayang wanna leave him there for the whole day. He is going to the youngest kiddo (and also the smallest size). I saw the tilams being laid on the floor, and the pillows arranged in one straight line for the boy and girls to sleep. There will be 29 of them for the daycare. They will bath, eat lunch, sleep and do some activities like coloring and so on. Sigh..this is even tougher than any other problems I have faced before. So susah SO SO SUSAH...