Did anyone hear me Ahhhhhhhhhhhhh-ing last night???
Nolah....not orgasming la!
I told you guys yesterday that I want to find one acar that will make me say AHHHHH and shiver shiver abit like the new Coke ad leh....forget edi?
Anyway, I found it.
Thanks to
Michelle
, I went and bought my acar when I was on my way home.
The shop/restaurant was just outside my housing area.
I found it in....KING CRAB! But I think not many will drop by to buy just acar only. I basically made everyone panic looking for a container to store the acar. hahaha And its cheap @ RM4.20 including the tax this and tax that. Ah Tuan Ee's costs me RM8.01 plus tax this and tax that. Same quantity.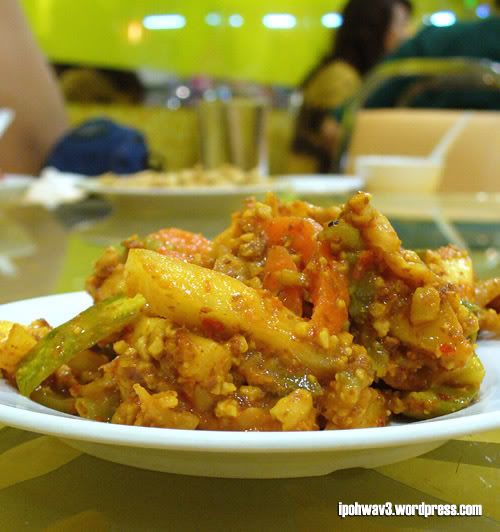 Pic stolen from ipohwav3.wordpress.com.
Muahahhahahahahahahhahahahahahahhahahah
Okay, no more craving for
acar
edi. What to crave next leh?
(can see Big C's leg shaking edi. Don't worry la b. I promise I will crave for food that is easy to find k?)