I went home last weekend and my Mama told me
"This two, I reserved for you"
Awwwwww My Mama Loves me lot lot!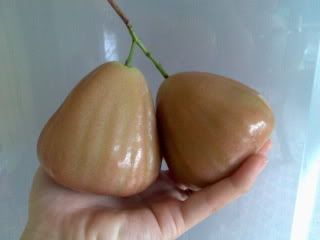 Big or not? This is what I call organic. Home grown without pesticide and chemicals.
Then my sis went and check out the tree and she found this.
My mum missed this bunch and didn't get to trim the bad ones off. So it ended up growing smaller Jambu Airs compared to the one she gave me. But taste the same - juicy and sweet!
Can you guess how many Jambu Airs are there in this bunch?