I wanna eat this.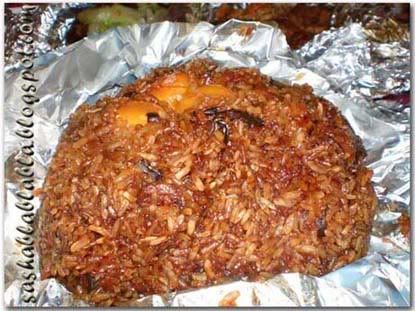 This is the nasi pulut with salted egg. YUMMY! Can order this when you visit
this place
.
JACSS
and those that wanna go, i seriously cannot draw the map cos I was entertaining my son in the car and i dunno how they turn and turn and end up at
this place
.. I just know that you just go to IJOK and its in the town area. Asked the ppl in Ijok and they'll guide you. Remember that its in the Oil Palm Plantation. ok? (Let me tell you guys first. Need to call and order wan okay? If seriously you want the number, email me and i'll get it from my dad this weekend ya?)

And then i wanna eat Char Kueh Teow, Nasi Lemak, And so much more!!!

Right now, I'll just settle for this.



After that pop in a pill or two after that and continue with my work at home today (MC ler...).

The remainder of the soup, dinner and maybe for Lil J's porridge soup based tomorrow. Sick ppl cannot do so many things wan. I just know how to kill 3 birds at one go.