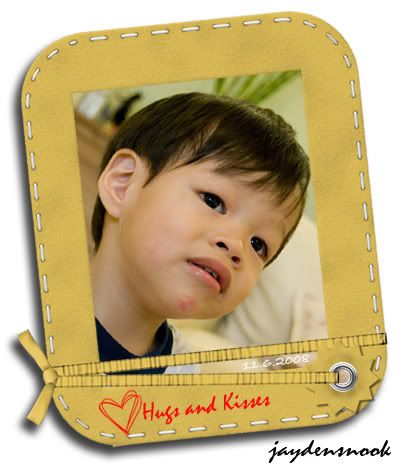 Noticed the red mark on his chin? That's not a bruise. That's a lipstick mark from his teacher. *lol* He got it from her when he hugged her and gave her a kiss before we came home. Everyday before he says bye bye , he will give teacher a hug and a kiss before we go back. That is how much he love them. And also because the rest are doing it..so peer pressure I guess?

So how's the lil' one doing? (the outer lil' one-not the one in tummy) I can say, he's getting better each day in school. Yesterday, I saw him playing masak-masak (he was trying to assemble the koyaked (spoilt) pan back while his GIRLfriends fried some stuff. But I didn't see him interacting with the girls. Anyway I asked his teacher and she said he is alright. He plays hide and seek with them, running and chasing each other and they include him when they play family. Guess what role he got? baby la.. what else?!

Part from that, he stopped drinking milk using bottle in school. Guess he was shy seeing his friends drinking milk without bottle. His teacher got worried that he is taking less milk compared to the time he first came to daycare. But he will eat other solid except milk. Now, he eats himself, refused to let teacher feed him and dirty the floor like nobody's business. But the teacher said that he is good and at least he is trying hard. And they let him practise and clean up after that (well they have cleaners there all the time..so...).

His nickname is "Baby" but he doesn't act like one. The other day I saw him walking around like a big taikor. Now when he sees me, he will run and......................Take his bottle first then only come to me. Not run straight to me anymore. :P

And he will say " Bye, Bye, Bye, Bye, Bye, Bye". Wondering how come so many Byes? He says bye to each and every human in the class room. Yeahlah...don't know how to say people's name what, what to do? I asked him to hug his friends yesterday and he selected a few to hug and refused to hug some of them. Hmm I wonder why?

He refused to let me carry him when we're going home. He wants to walk by himself - ONLY WHEN WE'RE GOING BACK. But it's a different story in the morning, he insists that I carry him all the way into the class. And yes, he still cry abit in the morning when I leave. :(

Every morning when we put on his school uniform, he will ask me "why? *sob* *sob*". Then we gotto to answer him otherwise he won't let you put on his uniform. And then he will ask again when we put on his socks and also his shoes. You say drama or not????

But anyway.....I'm so glad that he changed so much. Definitely acting like a big boy now. But still...he will say "aunty..aunty" when we passed by his ex-nanny's house. So who said that kiddos will forget fast? I know mine still remembers after such a long time...