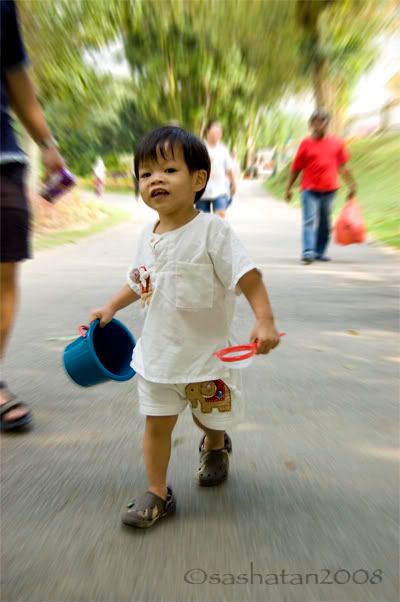 Big C asked me "Actually, how is Jayden after you leave him in school?" It got me wondered too. So on Tuesday I decided to hide and stick around for a while to see what was his reaction. As usual he cried when I passed him to his teacher. He cried really loud holding his James train. And suddenly his teacher just went and hugged him and sang to him. And it was like magic! Jayden just stopped crying,sobbed and sang with the teacher. That moment was....simply amazing. To see him sobbing away and sing with the teacher is just so..so nice. Cos at home, the more you console him the more he will scream and cry out loud.
On Wednesday, miracle happened. As soon as he saw his teacher, he went to her and said "Bye Bye" to me. It was Wednesday - his play day at the playground. As I walked off I thought that he'll come running towards me. Nope. I turned around and saw him jumping up and down with his friends. So I thought "for today only cos it's playground day. Tomorrow he'll cry again".
Today, his day began in the classroom and not the playground. I was so ready to bid farewell to a screaming child. I was so wrong. He went to his teacher and said "Bye Bye" and continued to play with his classmate. I turned around and he was smiling at me.
The moment that we've been waiting for finally has arrived. Well, I'll probably get jinxed for writing this. Maybe he'll cry again tomorrow or maybe on Mondays after the long weekend. But at least I get to enjoy this moment for 2 days. :) Gotto appreciate what we have everyday right?