Not enough with the
poopy-heart-attack incident
, my son tried to test my patience last Saturday. We attended
my niece and nephew's
birthday pool party last Saturday. The lil one (the outer one) enjoyed himself by jumping into my arms from the pool side like this...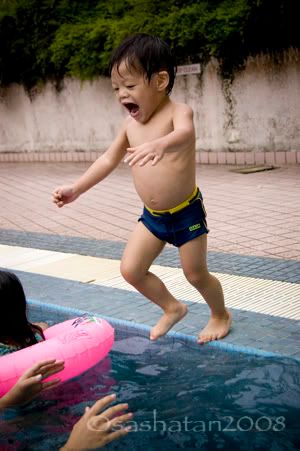 He enjoyed himself so much, he did it over and over again. And then the older kids started to scream and jump into the pool, creating big splash. Jayden got so excited, he started to scream and jump into the pool like the older kids. Suddenly, he just went nuts and
ran towards the 8 feet pool section.
I was stucked in the pool. I yelled
"JAYDEN NO!!!!!!!!!!!!!!!!"
and he giggled and yelled too
" AH!!!!!!!!!!!!"
while running towards the 8 feet section.
My tummy just went harden! I screamed and screamed and he was Giggling away??? At last I shouted "DADDYYYY!!!!!" Big C was already running towards the lil one and managed to catch him before he made the olympic jump into the pool.
PHEW!!!!!!!
My BIL came and told me
" I think it is safer for him to be in the water!"
Yeah, and after that we put him on the float and make sure he stayed in the middle of the pool cos he can pull himself up from the pool side. My face turned white and my tummy was so uncomfortable after that. The feeling was like... Gonna beranak anytime man!
Maybe it is safer to put the hand float for him you say? We tried and he refused to move. You say la?????????
Look at him la.. like nothing happened. But the father and mother nearly kena heart attack with his doings. *wipe sweat*