Last Sat was a good day for me. Cos we went to the park early in the morning and Jayden had fun, Big C gotto jog a little and I got to take some pics. It was even better because we went to Midvalley to get some stuff for myself. It's been a long long time since I have shopped for myself so I guess since I'm in my 2nd trimester, I better get what I want now or else I wont be able to get it until I give birth!


One of the stuff that I managed to get is Loreal's True Match Mineral powder on foundation. All these while I have been using Maybelline's 2 way cake. But since the beauty advisor promoted this, I thought why not give it a try. It costs me RM60++ for this, compared to the ordinary foundation that they have about RM40++? But when the beauty advisor told me that this powder can cover MORE compared to the ordinary 2 way cake, it caught my attention.

I believe that every pregnant lady will have the same case like me. Either your face will have break-out or you looked like you just woke up although it's already noon time. You constantly looked tired and a dash of foundation, a lil blusher, a lil colour on the eyebrow can really helped to make you look "livelier".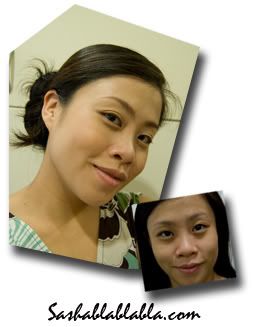 I have been using it for almost 3 days now and I can say that I like my Maybelline's foundation better compared to this. The brush is kinda hard and prickly. Not only that, there will be some wastage, you can see it on your shirt and all over the sink too. You gotto be extra careful with you use this otherwise, you will finish the entire bottle in just one month.
Apart from that, I kinda like the colour. Finally I managed to find the right kind of foundation tone for my slightly-darker-than-average-chinese skin tone. But then to spend RM60 on this compared to my RM15.90 Maybelline foundation (remember petrol price increased?), I think slightly fairer is also okay right? As long as I look human and alive, I'm happy.