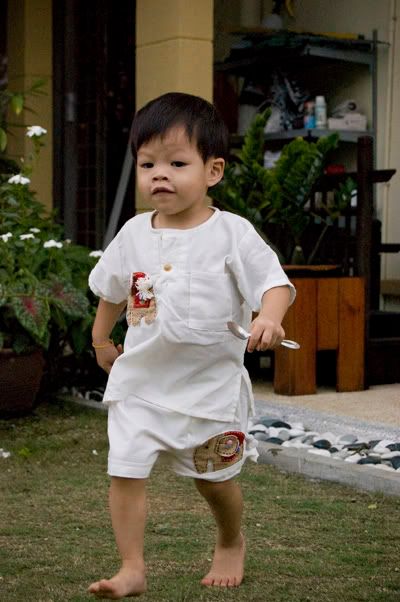 Looks like a big boy eh? Picture taken in Laundryamah's house during Kylie's bday.
He attended 1 month (approx) of playsch and 2 weeks of daycare. He still cries every morning when I send him and mostly everytime I pick him up from sch - cos he get upset when he sees other kids going home. Yesterday as soon as he saw me, he did some dance for me and sang in the car.
Sekejap cry, sekejap happy.
But other than that, he changed quite tremendously.
He became more independent:
He carries his own school bag when teacher said "Okay, Let's go" or when I say "Let's go home". Last time he refused to carry his bag.
He drink more water by himself with the water tumbler. Last time, we gotto pass him the water bottle and ask him to drink.

Express himself more
and talk (babbles to be exact) in longer sentences. But it seems like only his mom know what he is talking about. Hoping that he will string his words more... He also demands for his fav show -ELMO and ask for food (Yakult, Egg, NenNen/Milk).
Banyak mintak ini itu o...I cannot even sit down and warm the chair
Being able to tell me that he wanna poop.
He used to poop in adult toilet or potty since he was very very young (about 1 1/2 months old) but he somehow rejected pooping in toilet after he was
hospitalized
last time. Now, he will ask me to
"GO! GO!"
when he wanna poop. It's been a week now and he only missed once. I think I'm going gila but I'm damn happy that my son can tell me that he wanna pangsai.
Being able to tell me that he wanna pee.
I thought that pee training might take longer than poop. But he surprised me for the last few days when he grabbed my hands and asked me to "Go! Go!" and ran to the toilet. But of course, many many false alarm (cos he just wanna play with the flush) and also accidents. We're not using the training pants cos I want him to know if he doesn't tell me that he wanna pee, he will dirty his legs and the floor. So, the plan is working so far- long way to go before he can go and do his own business by himself.
Knows his ABCs better
than previous month. Teacher always praise him saying that he knows his ABCs although he cannot speak in sentences. Well, at least the teacher never call him useless like his ex-nanny. Btw, we went to pick his things up from nanny's house. She was painting the babycot, I think new baby is on the way and to my surprise, J refused to look at her.
(YES!!!)
and he seldom say the A word (aunty) anymore :)
ROARING
- Lately he roars when his demands are not met. I have no idea where he learnt that but everytime we say "no" to him he will ROAR! He thinks we're scared of him if he roar at us.
He became insecure
-Very very insecure. He need to hug me when he pee and poo, hold my hands in the car when we're sitting at the back or when I drive, when he eat, when he watch tv, when we sleep and many many more. He will look for me as soon as I'm out of his sight. But the "wanted" feeling is so nice but tiring at the same time.
I'm still looking forward to see him play with his sch mates or other kids. Right now, he just sticks to the teacher all the time until he sees me. That's all I can think of...the brain memory RAM ran out. I nearly forgot that today is 21st and it was his 26th month today, and I thought he was 27 months. Damn blur edi....