We're in KK last Friday till Sunday to accompany Big C for his business trip. We left our house at 5.15am hoping to get to the airport on time for our 6.50am flight. But our superman driver took more than 1 hour to reach the airport and when we arrived at the airport, the gate was already CLOSED. Probably they saw Big C panting like mad carrying one sleepy boy and another mad looking pregnant woman carrying bags, they opened the gate for us and we rushed to the gate to board.
J enjoyed the plane ride, and luckily we brought his gadgets to keep him entertained.
Once reached, we took a cab to Promenade Hotel. Big C already informed them before that that we'll arrive early so we need a room early. But however, we still need to wait more than 1 hour after many rounds of asking. Big C left us for training not long after that.
And luckily again I have my gadgets to keep lil boy entertained.
We ordered room service cos I was half dead when we got into the room. Luckily he was okay. He ate whatever that is edible in the room...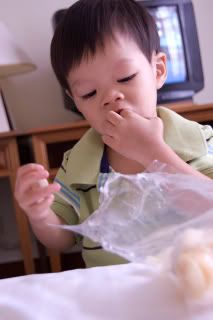 Eating keropok...
And even told himself Shhhhhh...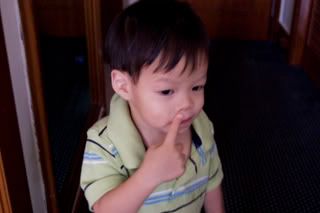 And discovered the "flushing game" in the toilet. So he kept telling me he wanted to shh shh and he did! And he wanted to flush for me also.....ekkk!
Big C got back near to 7 and we went for quick dinner opposite our hotel, facing the sea. And then the hotel called us to ask us to go back and change our room to a "better" room? And it was exactly like the first room. And because of the room changes, we lost Henry's (Awi) backside.
Neh...the one with no3.
He loved the tub as always..
He look different now eh?
The next day itinery was to go to WildLife Park. But it rained since early morning till........the next day. So we walked...and walked...and played in the shopping mall's playground...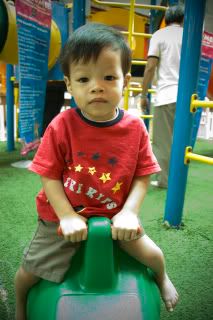 A very rare look of Jayden's - The Innocent Look.
Ever since he started school, he know how to play with other kids.
But they seem to reject him..err cos he is a boy!
And he played and played until he got so bored...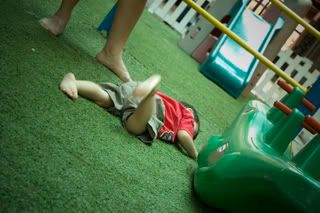 Don't talk about Jayden being bored.. I'm also bored..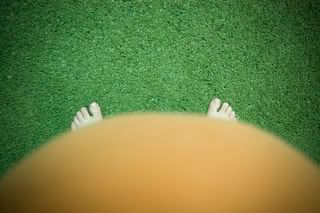 and suddenly I remembered I'm pregnant.
This my tumtum at week 22. No, that's not my naked tummy. I was wearing an orange blouse when I took my picture.
And then when the weather got better, we hang around at the Hotel's pool.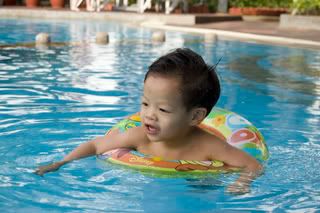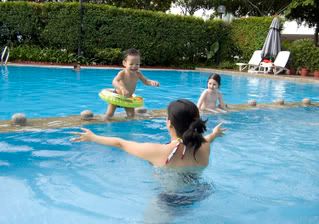 Yes, his mouth can be opened very very wide...
And at night we met up with
Papajoneh
&
JPPMOM
and their kids.
Seeing double! Yes, the twins are just so ............ (pls fill in the blanks yourself).
A. Biteable.
B. Kissable.
C. Huggable.
D. All of the above!
And I secretly nibble on this fella's arm and fingers...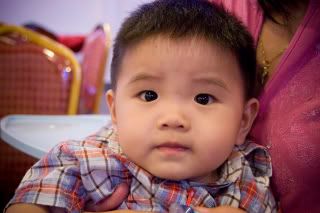 This is the younger twin, Presley. How I know which is which? I have no idea. I asked the mother :P
J enjoyed himself while running around with Joneh's eldest son-Josh. We hardly sat down and eat together because the twins wanted to walk around. The older kids wanted to run around. And the parents were occupied with the kids. We took turns to eat. But then after that Joneh brought us around in KK town to show us around. J vomitted in Joneh's car (Sorry again Joneh *shy*) and thanks for the lovely dinner. Next time when you come to KL is our turn yea..
That's all we did in KK. It was the wrong timing -raining season. But J seems to enjoyed himself and we get to spend sometime with him. And that's all that matters.