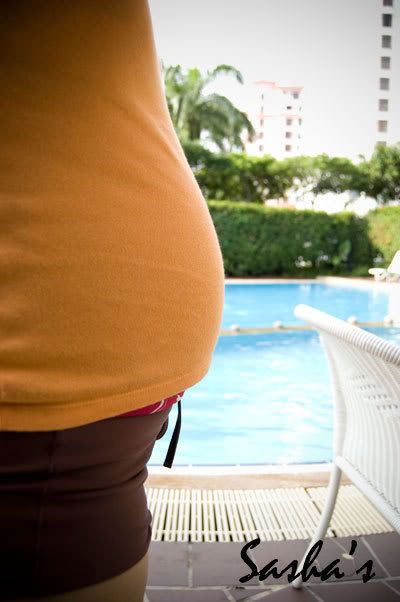 I noticed that I seldom talk about the little bump on my tummy. Cos I'm seriously so tied down with Jayden's issue with Nanny And Daycare. I even went for my 20th week checkup late (in week 22 last Sat). Not that I forgot about the check up but then I was busy with my dslr class and I gotto accompany Big C to KK the week before. Anyway, since things are better this week, I think I gotto be fair but to focus on the little bump.

I will be in week 23 this Saturday and I'm already 60kgs, with 8-9 kgs gained. I'm sure the weight didn't go much to the baby cos baby J is only 500gm ++ for now. My tummy is already 36 inches compared to J's bump that came max 40inches last time. So imagine a giant penguin walking around.

Baby is fine but very shy cos baby refused to show the face entirely to us, using both hands to cover the cheeks. Doctor somehow confirmed the baby's sex but then anything can happen. So we just gotto wait till baby is out then I can tell you that its a girl or boy, ok?

Covering the face/cheeks with both hands at week 22.
As for Jayden, he saw the scan and told the doctor "oh oh! oooohhhh Baby!" and he will sayang my tummy once in a while IF he's in a good mood. Baby is moving well, VERY WELL. Sometimes I felt very uneasy cos baby kept kicking the same spot for a very long time. Jayden was the same when he was in my tummy. Hubby asked "Can you imagine we have 2 Jaydens?" Okayyyyyy........Don't wanna think so far! Till then, I just wanna chill and enjoy while I can.