Brought Justin to the hosp at 5 am on Saturday cos he wanted to drink water and milk but he couldn't. So he was admitted immediately and put on drip. Big C stayed at home with Jayden and I was with my maid. Both of us gotto wait outside while the doctor poked his hand to prepare him for the drip. He was screaming like mad in the ER while the 2 of us walked up and down, sad and scared.He cried til he fell asleep but stil couldn't drink without painkillers. We gotto use the syringe to feed him milk, only taking 1oz every few hours.
Luckily we brought some toys for him to play. This is a teether given by
kiasumum
. :)
The feeling was mental, seeing him shouting as soon as he sees the bottle of milk or water but then scream when the liquid touches his throat. He was on Lidocaine to numb the mouth and throat before food and also on aloclair also to numb the pain.
Jayden came later, cos Big C said that he was not drinking and eating again. So immediately I went to see the paed in the hosp (Justin and Jayden has diff paeds) and she said that she can prescribe some medicine for him but I gotto be fast cos she was there for a meeting and gotto rush off soon. After some discussion with her, she asked me to bring Jayden and admit him first then she will come back again at 10-11pm to see him. So jayden was admitted without a drip and only on medication. They forgot to bring his Elmo pillow so he was fussing and grumpy and Big C went home to take his pillow. As soon as he left, doctor came and said that he need to be on drip. Again, i gotto endure the shouting and screaming of my kid alone. He was so strong all the nurses on duty went to hold him. And because he was struggling and tried to pul the drip, both the hands was tied with the kayu thinggy, leaving him only with 2 fingers to move.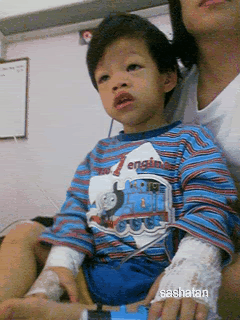 Oh yeah, as soon as the nurse heard that Jayden is coming to join Justin, they reserved the bed next to Justin. So all of us including our maid spent a night in the hospital together.
The next day, Justin started to eat without painkillers. So he was discharged but stil hang around to wait for jayden's paed to come.
Jayden was still weak and only can drink and eat with painkillers. His medicine was different, he was on Zovirax, antiviral medicine and Aloclair. But he is still very scared to suck his paci or drink from bottle. Even if feeding, I need to shout and force him to eat. Like mental woman in hospital. :S
Sick of course clingy and grumpy. He'll cry if anyone is not holding him. So both me and Big C gotto take turns to sit with him on the bed, accompany him to watch tv and play his Thomas.
So night came, and his paed came. She told us to keep him with the drip and spend one more night, but Big C said he prefer his son to be at home. So Jayden was discharged and everyone went home.
Both kids were so happy when they got home. Jayden asked me before he sleep that night...."mami? what happened?" So we gotto explain and explain and he said " i don't want tuk tuk (poke hand), i want go home" And i said "yeah babe, you're home now..."
Last night, finally he managed to drink milk from the bottle but refused to suck his pacifier. He was just holding it and looking at it. Probably he'll drop the paci soon. Drop or not, to me no difference. I only want my kids to be healthy.
I'm just glad that everyone is home, safe and sound. And finally some sleep after a week of mental testing indicents.