Last Saturday was Jayden's 3rd Birthday. Time really flies *zuuuuuup* blink blink he is 3 now. He of course was sooo happy. His classmates and sensei sang birthday song for him in his class and he was smiling sheepishly. As soon as we got home, I set up the swimming pool and its  PARTAY Time!!!
See the way he jumped?
So skinny can play guitar...Treng...Treng...
Do you know what is the Theme of the birthday party?
See I can suck in my tummy!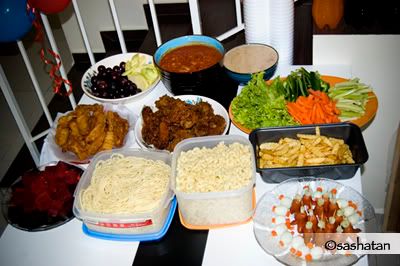 The food! everything is instant. Fruits, Prego Spag sauce, Campbel Cabonara sauce, Ayamas fried chicken, Ayamas Chicken bites, Fries, Sausage, Quail Eggs..hallo.,... no time to cook fancy dishes okay?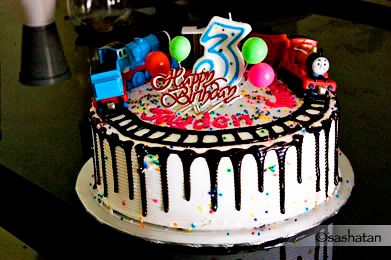 The cake...decorated with 2 pressie from Mami and Dadi. The blue one (Gordon) was his existing pressie when he was hospitalized last time. Yeap, it's Thomas again this year.
He was so surprised when I took out the cake for him..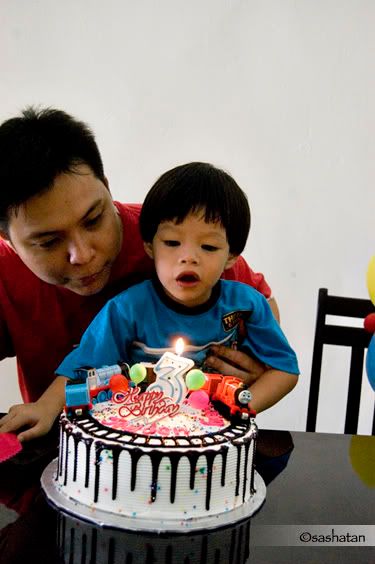 When ppl was busy singing birthday song, he only focues on the train..
And kept saying TOBY! TOBY! Yeap he's been telling us that he likes Toby.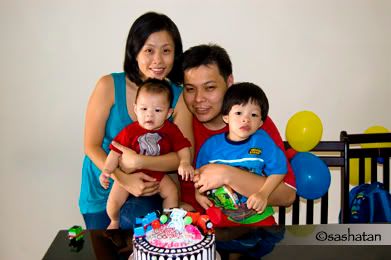 Of course the tradition of taking family picture during birthdays...
totally into toby...
checking out toby left, right , up and down..
and totally forgot about the cake..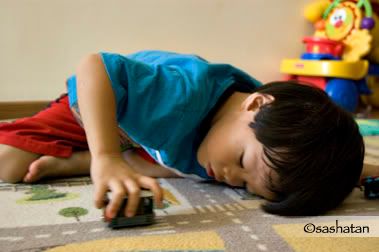 play and play and play....
Justin enjoying his carrot
Opening his pressie..Thanks
Ect Mom
, He loves the Thomas Alphabet!
Second round of dipping in the tiny pool..
Titi joined in this time..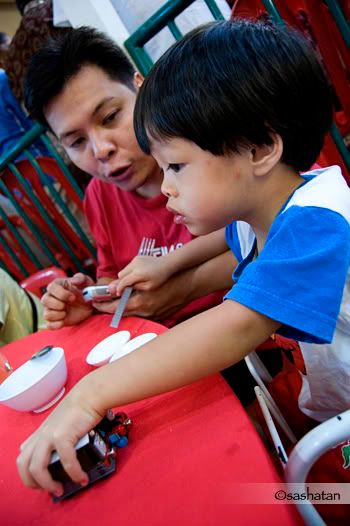 We went for crabbing session in Klang that night...gramps came to join us. Yum Yum! Still holding onto Toby and Gordon both his fav now..
And at night...
Still playing with his trains.. and titi errrr trying to eat his tidmouth shed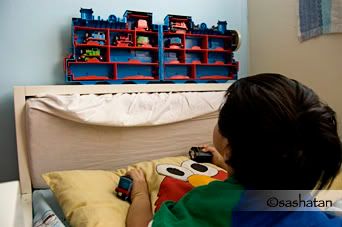 Looking at his train collection before go to bed...
That's how we celebrated his birthday this year.  The food, the activities, the cake, the presents was all about what he likes. And that is what matters the most- Him being extra happy on his birthday :)