Actually it was more like a crazy woman screaming in the car...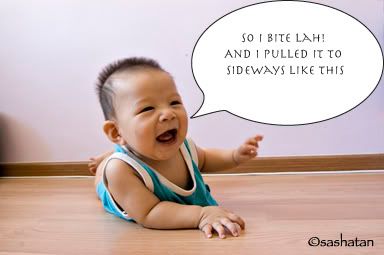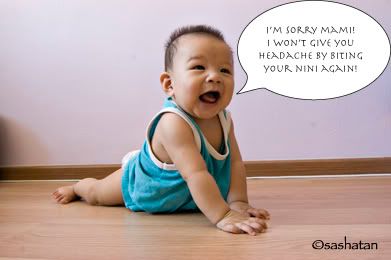 Yeap, he bites! Although he doesn't have any teeth at all, using his gum is enough to make me scream like mad!!!!!! Cos he only bites on the n1pple. Even after I
piak-piaked
his thigh, he refused to let go and you know what he did? HE GRINDED HIS GUMS!!!!! The whole world was like spinning when he does that. I spacked him again, harder this time and he stopped doing it and looked at me. STUNNED. No.. he didn't cry. He just stopped, looked at me and continued to drink. And you know what? He did it again! *sigh* So you see, double swirls on the head really mean something. It is showing now already!
And yeap another headache on the way. He is beginning to crawl. When I took this picture last week , he can lift his chest up quite high. Not long after that he began to combat crawl. And now, he's like an army boy, combat crawling everywhere! headache..............