My big boy turn 6 yrs old today. Time flies. Recap of his birthday cakes:
1st Pocoyo cake
2nd birthday : Henry Cake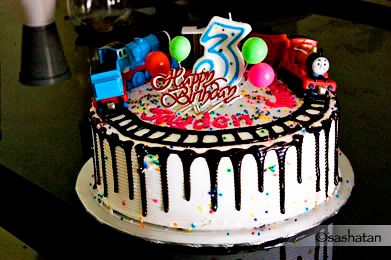 3rd birthday: Edward, James and Toby Cake
4th Birthday: a simple blueberry cake
5th birthday: A moist choc cake
This year, he didn't ask for anything specific but I know what he likes. BUT he repeatedly told me that he doesn't want to celebrate in school because everyone would look at him when they sing the birthday song. :S Instead, he asked for a small makan party with family members.
At first, I wanted to bake him a cake and decorated with an edible sheet that I got from
Edible Print
. But he saw me designing the artwork in my MacBook and he asked me "what is that?" I said , "a secret". He said "can you tell me the secret?". I said "No". "When can you tell me?". "On the 21st". And he said "ah........." Then before he slept, he told me
"mami, I don't want to have party in school. You don't bring cake to school ah.."
Aiyoh he knew my plan! I asked him why and he said
"because when everyone is singing happy birthday song, then they will look at me"
.
So since he said like that, I have to respect his decision. Then the edible sheet, how?
I was busy the entire week (story later this one) and I need to submit my artwork on Thu and gotto go to Cameron Highland on Friday. Stress level shoot 200%. So I quickly call my sis and asked her to help me to order a plain cake and passed her the edible sheet so that she can bring the cake over on Sunday when we're back from Cameron Highland.
As planned, as soon as we touched down from CH at 5pm, immediately I drove out to buy food and got back at 7pm. Decorated the cake with Strawberries that we brought back from CH. And he was surprised when he saw the cake.
His 6th birthday cake.
The cake , decorated with strawberries and Edible Sheet . Initially I only print the big pc, but the owner of edible sheet is so nice. He added 8 more cuppy sheets for me :)
And we lighted it..
And as we sang the birthday song, the birthday boy was so shy, he went to hide *slap forehead*
He told me "I had a great party.I'm happy".
And he kissed my hand.
:D
Effort so not wasted.
p/s: Happy Birthday Jayden Boy. Mami, Dadi and titi loves you lot!