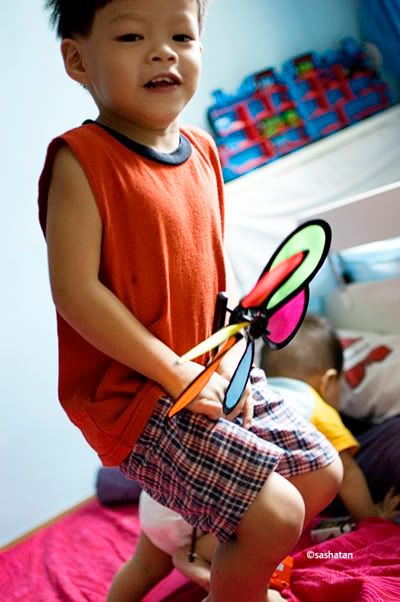 One month ago when I first started to train him to be diaperless, he need me to assist him to pee in the toilet bowl with both legs tip-toed.
A week later, he still need me to help him remove his pants so that he can go to the toilet and pee himself, with one leg on the toilet bowl.
Now, a month passed and he still need me to remove his pants for him. But he can now go stand and pee like a champion. Flush and wash his own hands too. He can even joke when he is peeing.."Oh it's raining mami!" hehe he's a funny guy.
Sometimes I get the urge to snap his picture when he is peeing cos I'm so proud of him for knowing how to go pee himself.  When you have a son that people keep telling you that he is slower than his peers, talk slower, do this and that slower, over hyperactive this and that then you will be like me. Knowing how to pee also you will feel like its a big achievement.
Haha But of course I wont take his picture while he is peeing cos I don't want him to come running after me when he sees his own peeing picture in
his blog
(if he ever reads it). So I look from far and can't stop smiling and feeling proud and think to myself, how come he suddenly became so tall in just a month time.. I really wonder..