He started liking it when we're at my
SIL's christmas
party. From then onwards he will dance and say OOOOOOOOOOOOOO while pointing at the tv. So yesterday we (went with my sis's family) went to Subang Parade and his dadi bought him his first ever...
HENRY, Thomas Train's Friend. And Jeremy got himself one too. I think its Edward or something. (Getting old edi) ....my son refused to let go of his train for me to snap pic!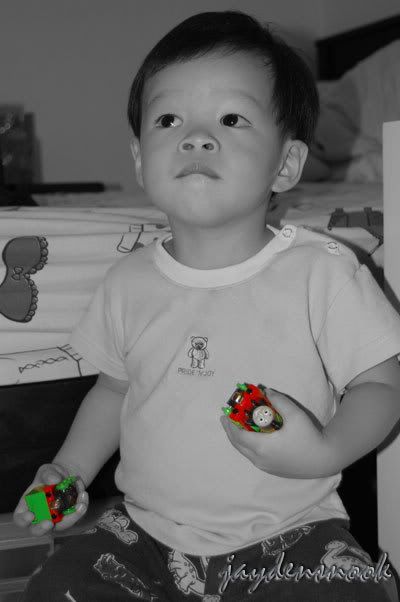 That is Lil J watching Thomas while holding his own train...
Why Henry and not Thomas? Because our lil J chose it himself. I gave him Thomas and he held it tight, then I showed him some other to choose, and he chose HENRY the green train. So, now we know his favourite colour is
GREEN
.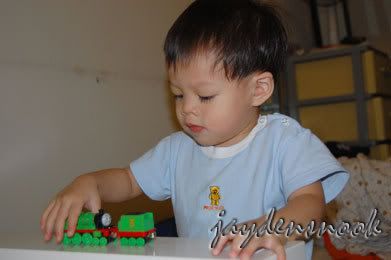 How much he liked the train?
He sat quietly on his stroller the whole time we're in the shopping mall.
He held it tight while he was asleep in the car.
He wanted to bring it into the bathroom and bath with him.
He will hold his two trains in both hands and he will use his fingers to take things.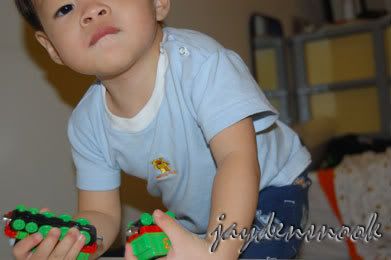 See, even when he tried to get up, he still hold on tight to the train.
And he went to sleep with the train too.
This morning, he woke up and looked for it first before looking for his pacifier! Haha!
But he doesn't like to watch the entire Thomas show. He only likes the song.
See how he dance along with the song. Fast for the beginning. Senget one side for each name mentioned. And then ended with "SAME WITH MINE!!!!!!!!!!!!!!"