The other day while we're going out for breakfast, Lil J ransacked my handbag (more of like bb bag) and he found a green apple. I thought that he won't like it cos its sour compared to the red apple that he always eat. But apple is still apple, His fav!

Slowly he peel the skin (using his mouth) in the restaurant.
He continued in the car...placing the skin onto the tissue paper and then I realised that there's no sound and I turn to my left and I saw him doozing off with a small piece of apple in his hand..

And we passed by a bump and this is how he reacted to it, he moved his hand, balancing the apple and preventing it from falling.. hehe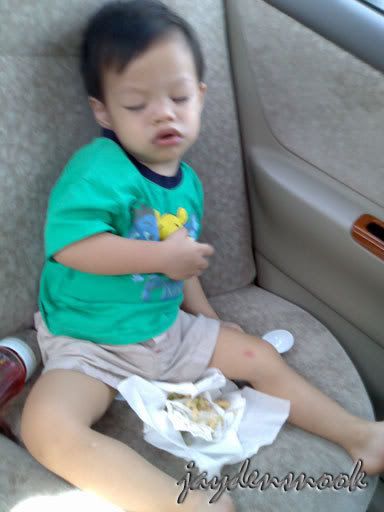 I can't stop giggling and snapping his pic (using my hand phone). Look at this pic, drooling thinking about apple I think! haha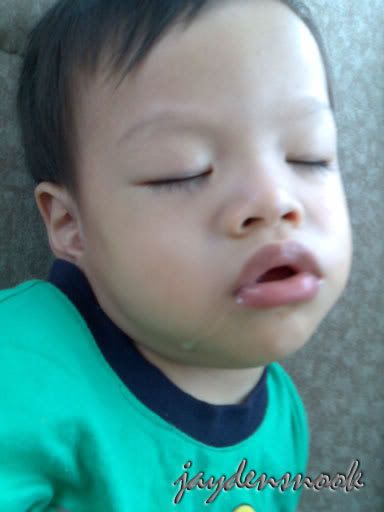 And while I was posting these pictures, I realised that I have posted nearly the same thing before in his
blog
when he was about 6 months old..check out the similarities! He was half way eating his sweet potato that time..
This is the good thing about blogging about our kid(s). You get to jot down everything including the good,bad and funny incident. "SOME" non-bloggers used to say they don't understand why I want to jot everything down, as if there's nuthing better to do. Some even commented that bloggers are geeks and nerds.(Do I look like a nerd?hahaha) Well, they will never understand why...I know and I am enjoying it :)