A.....some of you guys thought I was too happy camwhoring with my Justin. Nolah...I MIA-ed cos Jayden was sick for the past 5 days due to fever viral. He's much better today :) So the other day he was at home sitting by the bedside and I heard him sang...
Jayden: Dadi...dadi... I yup you. Dadi...dadi.. I mik you...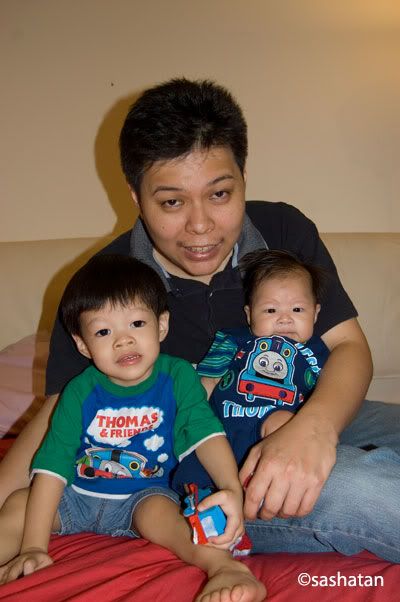 My 3 Chans...Big Chan, Small Chan & Little Chan
Yeap...definitely a dadidi's boy. But when he's at home with me and Justin (and also my niece who's here for holiday) he sticks to me like glue. And when my niece tried to pull him away from disturbing me working, he will say...
Jayden: UWAAAAAAAAAA Ting Ma...Ma....De Hua......Uwaaaaaa per rang tah shou shang...shiang kwai kwai chang tar.... Uwaaaaaaa
Muahahaha It's cute la the way he sang Jay Chou's song. Ting Ma Ma De hua (listen to mommy's words) wor.. If only he knows what he is singing. And yes, we listen to this song in our car. And Jayden requests for it over and over and over again until we gotto hide the cd. :S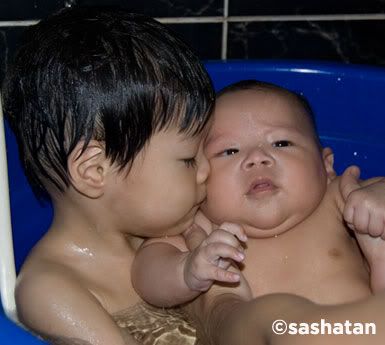 This is him, kissing his brother while bathing.
Since he was sick for the past few days, he was very manja. Refused to let me bath Justin. Sometimes he will say "I want wipe baby...." and helped me to use the hankerchief to wipe Justin's face and head. Or sometimes he will purposely say " I WANT PEK PEK (poop)" when I'm about to bath Justin. So one day I was too busy to layan both, I stripped them and bath them together.
These few days, pangsai also no time. Serious....... I wanna pee also he bang the door and went into the toilet with me. I said "cover your eyes!" He laughed and put his face nearer. You say la.. pee also interrupted. Dun worry no pangsai story cos you know why? Told you edi what?! Really Pangsai also no time!