La la la la....
Actually I have written few long paragraphs. It's about something SOMEONE has said about me. But I figure, forget it la. No point writting it out. I have better things to deal with than to be angry and sad about that person. Not worth my time right? But what happened has proven my intuition about that person is so right and I've made the right decision to stay away from that person since long time ago. :)
So, it's weekend again! And that's a good reason to be happy and be all cheerie right?
And... I managed to sleep last night!  Not sleep through thenight but then better than the rest of the nights. Must be thankful, right? (probably get jinx after this...hehe) But then woke up with a swollen eye! Too heaty maybe.. Hmmm 
See how happy I am ? So happy that I started camwhoring with my Justin. hehe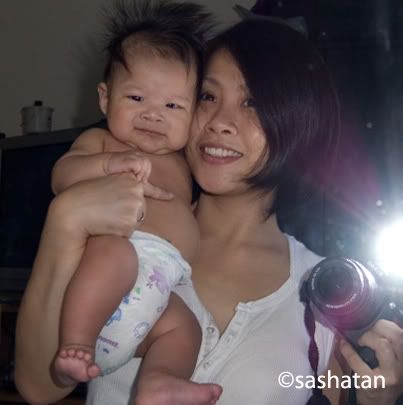 Nolah...not middle finger (although I so wanted to show it to that person). Managed to snap a pic of him smiling (abit). I don't know why, he always frown when he sees my Hand Phone or my camera :S 
I think it's him that make my hair look nicer in this picture. Hehe
Have a good weekend everyone!
La la la la la....