So we're having dinner in Esquire Kitchen a few weeks back and I wanted to snap a pic of Justin wearing this cute lil china-man cap.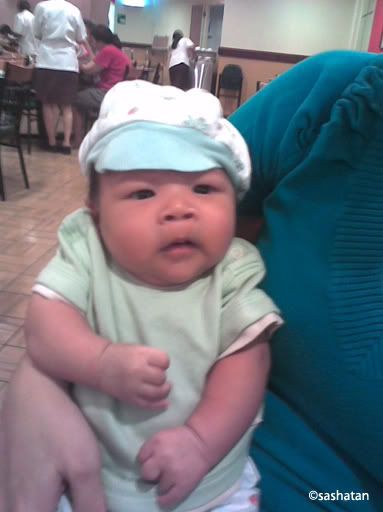 And I don't know why, its very very hard to get Big C to help us to snap some good pictures. There are always excuses like Want meh?, Aiyah no need la, Jayden kacau la blablabla. But then it's okay for me to snap his picture with his kids. :s That explains why you seldom see my picture in this blog unless someone else takes picture for me.
And the other day I thought that its time to do some housekeeping on my phone, downloaded a few pictures out and when I look at the pictures, I rubbed my eyes a few times. I saw this.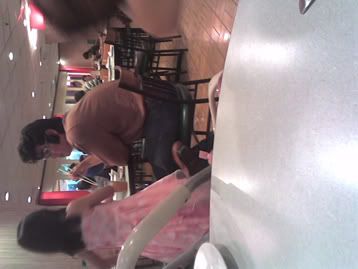 Then I rotate my head 90degree and then looked even closer..
.
.
.
.
.
.
.
.
.
You no need to rotate your head la. I rotate the picture for you la!
.
.
.
.
Naah!
.
I asked him to take Justin's picture and he grumbled. But he can go and take a nice and clear shot of Mr Elvis Wannabe. Pengsan or not? *sigh* No wonder when he was playing with my phone he was giggling and eating his dinner. Maybe I should frame this picture and put it on his bedside for him to see since he likes him so much eh?
btw..if you stay in PJ, you will see this guy in the picture very often. Yeap... real hair.