Backdated, updated!
Ah time flies and he's already 2 months!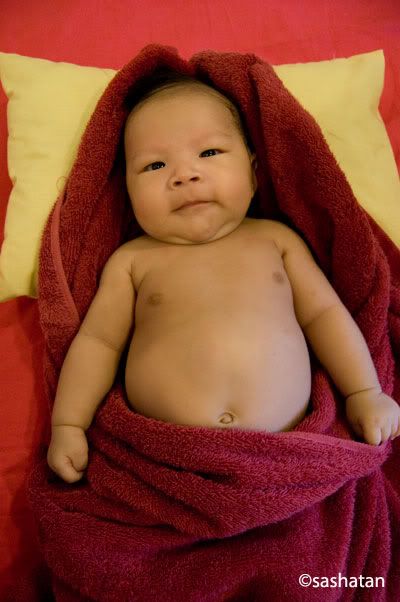 Pic taken at 1 month 2 weeks and 5 days old. No current picture. Very busy ler...
Weight:
I think he is slightly more than 5kgs. Haven't been to the paed for his jab. He's down with cough and flu :(
Went to the paed cos he was coughing very badly till he cannot breath and he is 5.7kgs.
Height: Dunno also
Head:
No idea
38.5 cm
haha you must be thinking "what kind of update is this if everything also don't know and no idea". Muahaaha you dunno ka? I'm going nuts already! I don't even remember when is the last time I poop!
He drinks direct from McSasha now, so I have no idea how much he drinks. When we gave him bottle (that's when dadi or pohpoh is feeding) normally it's 3oz. And how often does he drink? I have no idea too! Muahahahhahaha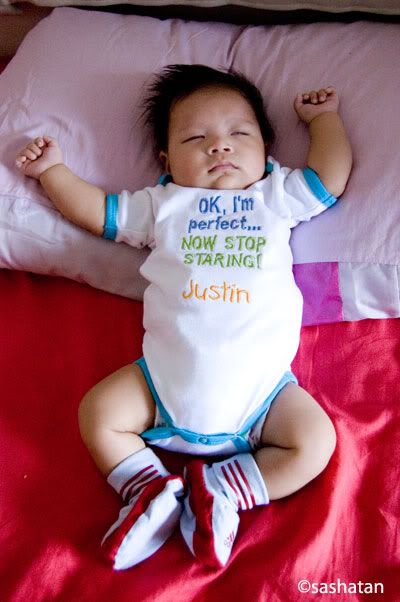 He loves to coo or typical chinese says Angoo. And he farts alot! We call him "Mr-Fart-A-Lot". His sleeping pattern is very different everyday. Sometimes he will take very frequent short naps or sometimes he'll just sleep and sleep and sleep till I get so worried. And yeah, he still wakes up in the midnight for feed. Don't ask me how many times. Let's just put it this way, ok? When he cry I'll walk over like a zombie and flip my shirt. And he will stop drinking once he falls asleep. Sometimes I wake up many many many times and sometimes just two times.
Although I'm very tired, but still seeing him smiling and cooing really melts my heart. Love you Justin!