Christmas will be here tomorrow. My son has been requesting for "kissmass" song in the car. But when we're in pasar malam, you won't be hearing kissmass song anymore. You can only hear TONG TONG CHIANG song. And everywhere you turn you can see Chinese New Year Costume. Seriously, I like to look at the clothes especially girls clothes. Not that I'm drooling to get a girl it's because the clothes are so funny. You can see frills and funny looking characters and it's all pink and red. I remember that my mum use to dress me in all-pink from top to bottom. My eldest sis said I was the one that requested for pink. Seriously I hate pink cos its the colour of the kids fever medicine. :P
Anyway, we will be celebrating our cny in our new house. Yes, moving very soon. Means no line. Means no blogging. Means time for a break.
Time flies really fast. It was as thought I have just posted this picture of Jayden in his kungfu clothes.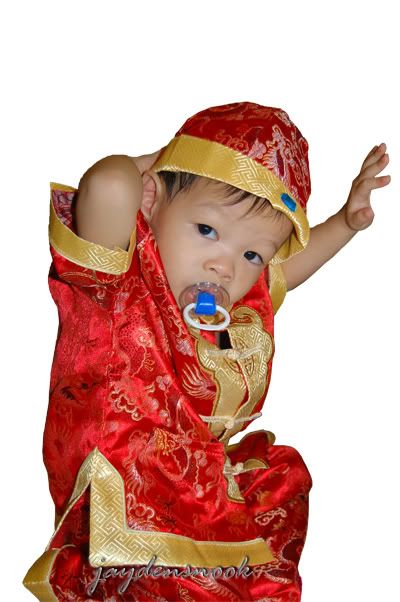 This year we gotto buy 2 sets of chinese new year clothes. Imagine lil Justin in kungfu shirt. *LOL* He will look darn cute with his big belly. Maybe DOMII can sponsor me 2 sets of costume like this one
Then both Jayden and Justin will look like brothers cos they don't look alike. But then DOMII only carries boy's clothing from age 1-14. How? Maybe Justin can fit into 1 year old clothes by chinese new year since now he's wearing 6 months baby clothes already. (yeah, mami is dreaming here!!!)

Eh you guys wanna try and win this Kungfu baju or not? Then fast fast go over to MG's site and join la. Contest ends 5th January 2009.

Okay I'm really hibernating now. BYE! Merry Christmas and Have a very Very hAppy New Year!!!!!