One of my favourite cookies EVER! I lost my mum's cornflakes cookie recipe and I thought I can never eat such a nice cookie anymore until my sis brought over a copy of cookies magazine. Immediately i flip through and saw CORNFLAKES cookies! YAY! So I baked some for CNY. My first batch was slightly overcooked cos Jayden refused to let me go into the kitchen. But I ate ALL. So I tried again and I thought I should double up the ingredients and make more. I thought I wanna share and give some to my neighbour- menjalinkan hubungan baik ma.. but then hahaahahah I looked at my cookies and then I ate some.. then I though... NEXT TIME LA! But what I was so pissed about was, I went out to buy something and I came home with half the cookie missing. My maid sapu half the container! $#@%#$ can really eat like no tomorrow but that proved something also la.. means it tasted good. :) Must give warning to her - Do Not Touch My Corn Flakes Cookies!
I added raisin into the ingredient cos :
1. my mum used to bake cornflakes cookies with raisin.
2. Teik Senn sent some over for me to try together with Sunsweet Prunes, Tulip Ham, Diamond Zipper bags, and many more. Thanks Hui Min!
So here goes: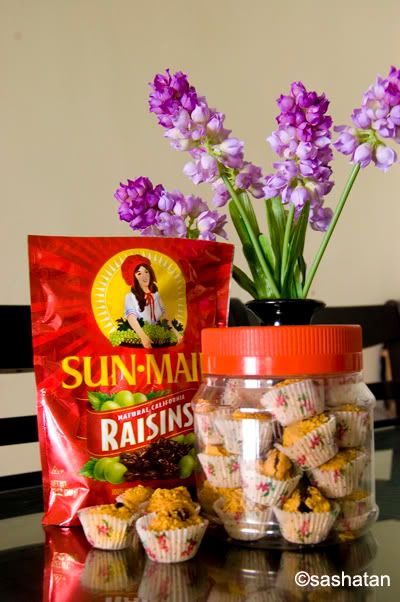 Ingredients:
A
100 gm butter
80 gm caster sugar
B
1 egg (grade A)
1/2 tsp vanilla essence
C
150gm plain flour
15g custard powder
30g cornflakes
50 gm Sunmaid Raisin
D
Smashed cornflakes
Steps
1. Beat ingredient A until fluffy, add in ingredient B. Mix well, fold in ingredient C to form soft dough.
2. Use spoon to scoop out small dollops of cornflakes raisin dough and drop it into D, smashed cornflakes. Coat well and leave in paper cups. Place on baking trays.
3. Bake in preheated oven at 170˚ for 15-20 minutes. Cool and store in airtight jars.
Result: YUMMY!

Additional tips from Teik Senn/Sunmaid: Soak the raisin in hot water for 10 mins to get better results. The raisin will be soft and yummylicious compared to using it straight (it will be slightly dry)