We celebrated Lil J's 2nd birthday yesterday in McD centrepoint Bandar Utama. His actual birthday falls on this coming Friday, 21st March 2008. We totally forgot that 20th is a public holiday. Otherwise we'll do it that time. But anyways, I am GLAD and RELIEVED that it's over. The preparation made me so dang nervous and stressed. Macam the time I kahwin like that. :P I wonder whether I will feel the same on his wedding day :P.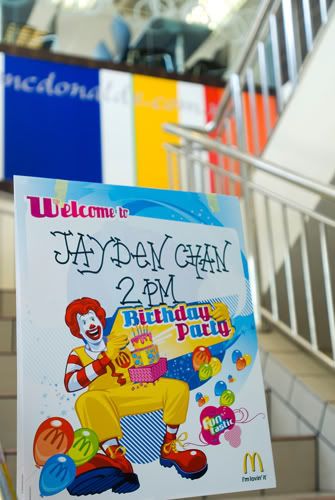 Awesome pic courtesy of Shannon!
Lil J was asleep when we arrived. Shannon was already doing her thing, snapping our pic the moment we're on our way up. So when he woke up and saw there were so many people and kids at the playground, he instantly played and enjoyed himself. Nadia came later and she began to
work
snap pics. 
Ok, I was damn blur when I arrived. Apart from Shannon, I dunno who came early. I was trying to breath in breath out (told u i damn kan cheong).
Laundryamah's family
,
Darrius and family
,
Irfan and family
,
Rachel and family
,
Oscar & Mummy
,
Fearles+Cruz+Mummy,
Ashley and family
,
TongTong and family
came for this party. Thanks to all for coming and making it a great one for the Lil boy. He was very very happy. I am sure everyone saw his reaction towards his cake.
It was a Henry Train Cake made by my sil ,
mamamin
. She just had her Fab 40 Birthday the night before. Thanks min ;)
When everyone was singing the happy birthday song, he was saying AWI!!AWI!!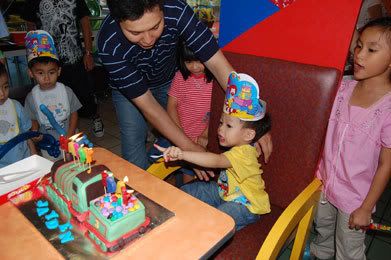 He must be wondering where we got such a big Henry Train for him.
We usually practice with 2 candles (max) at home. But this round there's more. The boy was basically drooling just looking at the Henry Train and he managed to blow only one candle. hehe
Then he was surprised with the appearance of Birdie, who represented Mcd to give him a pressie.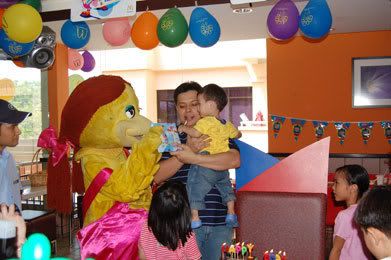 But he refused to let her carry him.
Arghh!!!!!!!! let me go!!!
The party ended quite fast. It was like EAT, SING, CLAP, BYE BYE! But then my lil J enjoyed himself very much although he didn't have a good nap before that.

Chillin' with his blue shades and Thomas T from
Yvonne
.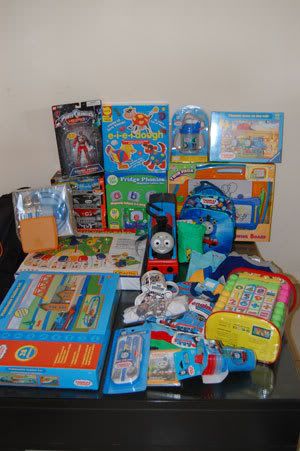 J got 2 gifts from us.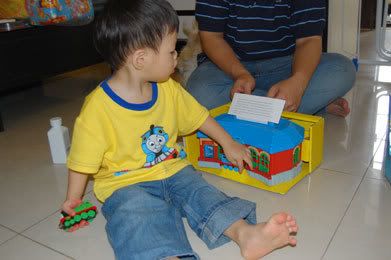 A house for his Henry and his other trains. And also another pressie on the way in September. maybe a Didi or MeiMei for him. ;)
He was very cheerful the whole night. Yeap he was so cheerful, he refused to sleep at 12.30AM! I gotto smack him a few times before he ran and hide next to his DaDiDi and slept. Phew!
Here I'd like to express my gratitude to certain ppl that helped to make this party a success:
1. My No.1 sis. Who helped me to source for Thomas party things. Boy, thomas party thing is really hard to find. And also made balloons for the kids during the party.
2. My SIL who helped to bake the cake although she's busy preparing for her own bday party.
3.
Shannon
and
Nadia
, Thanks for the awesome pics! (
shannon waiting for yr pics!
Shannon's pic can be viewed
here
. Nadia's pic can be viewed
here
)
4. All that came and make this party a fun party. Thanks for the gifts.
5. Those that sent gifts to lil boy. :) Sorry if I missed out any. I am damn blur now. I need to sleep and rest.
6. And thanks to Big C who paid for the party and for donating his genes to create such a lovely creature like Lil J and our coming baby J.
Okay, now I wanna go and pengsan. Bye!