Big C woke up very early and went to vote last Saturday. Damn semangat. But everyday go to work also I need to wake him up dunno like how many times then only he will move. So I went to vote in my mum's area. Not many people but I was so kan cheong neh! My virgin vote! I look see, look see so many times then only I pangkah nicely. Aitelyiu, that is the nicest pangkah I ever drew in my entire life. :)
So after pangkah pangkah, we went to my sis's apartment for a swim together with my niece, Jasmine. The lil boy, enjoyed copying everything Jasmine is doing. Including the way she swim. I never know my son can float like that. Maybe can send him for swimming lesson soon.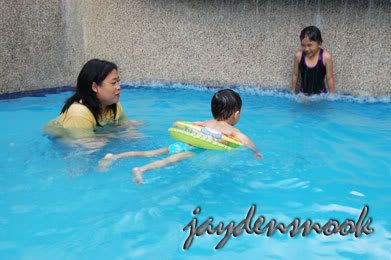 He also tried to blow bubbles like Jasmine.
And he swim by himself with his float..
He refused his afternoon milk and I wondered why. Then he held his hands and point to his cheek and told me
"Liu Liu" (shame Shame).
Then we went to Summit and Mydin for jalan-jalan. And see what they chose for themselves?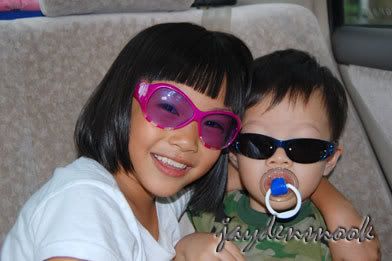 Shades. Damn cheap in Mydin. Jasmine's cost us RM4.90 and Jayden's is Rm3.90-he chose it himself :) Like Terminator right?
He also tried to follow Jasmine when he saw her putting the shades on her head.
At night, he
refused his milk
again. He told me
"Liu Liu"
. Jasmine slept on his bed and he insisted to sleep with her on his small bed. So as soon as he doze off, we put him on his old matress- on the floor. Normally he will wake me up when he's awake but that day he woke Jasmine up and asked her to play with him. He refused his morning milk and told me
"Liu Liu"
again. So I asked Jasmine to drink cold fresh milk while I poured his milk into the cup, then only he drink the milk.O_o While he was napping, I tried to feed him milk and he took the milk! So there must be something about the
"liu liu"..
.Jasmine went home on Sunday and after that he took the milk willingly.
Then I thought myself...alamak, my son knows how to be shy around his cousin saying that its shameful to drink milk with bottle. That's the
"liu liu"
he was telling me. No wonder he refused his milk la. But then how come he's not
"liu liu"
with his chitchit wan? sigh....my anak..