Remember I used to say people like to
judge me based on how I looked?
People are still doing that, I don't blame them. I do have a "naughty" face. So what? It doesn't mean that I looked naughty, then I should be naughty right? I don't have to proof to them that I don't smoke or drink or club. I syiok sendiri when I am at home with my 2 guys. That's the best!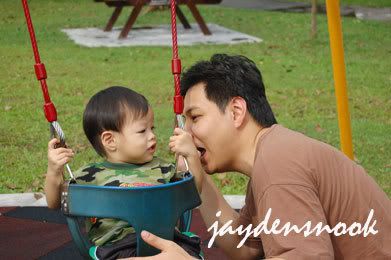 And guess what? Now, people are judging my son based on how he looks. Not long ago, a relative said to his wife "he has very naughty look" pointing at Jayden.
Then a friend said to me " your son is so naughty hor?" because he wouldn't sit still on the high chair. He wants to get down to walk around because he was so bored with us yakking and drinking our teh ais.

Sometime his own dadi will smack his bum and said "Why You're so naughty!" . I asked Big C, why do you always say that he is notty? Everyone don't understand him that's why they said he is naughty. And he stopped saying that.

Sometime, I get the urge to scold him "Jayden, why you so like that?" But most of the time, I will just look at him and wonder myself,
Is my son naughty?

There are many things which he did that really make me wonder if he is really naughty, like:
He likes to dig my kitchen cabinet, take out all the containers and leave it lying all over the floor.

He likes to throw books and flash cards on the floor, and then choose what he want to read.

He likes to dig the DVD/CD folder, throw everything on the floor and choose what he want to watch.

He doesn't sit still while eating on the high chair - he prefer to stand up.

He will play with the puzzle, but purposely want to fit the piece in another hole and whine when he can't chuck it in.(why?)

He love to open the door to go out of the bedroom but he closes the door before he leave. (thats very good)

He love to align the farm animals in one straight line and then push them down and say "Oh! ohhh.." and then align them again.

Then when I read updates about other kids being able to say so many words already and mine is stucked with a few, it got me wondering again.
Is my son slow?
How come he doesn't talk like them?
How come he doesn't play and interact like them?
How come he acts this way?
Is he.............normal?
He is super hyperactive, there's no doubt about it. He just want to play, play and play ALONE. Very seldom you will see him interact with other kids. I thought that he was a loner but once he surprised me when we're at secret recipe playground when he played with a girl ( I think few months older than him, and she was a pretty one *wink*). I asked him where is cheh cheh and he walked towards the girl, pointed at her, touched her nose and shouted CHEH CHEH! Okay, a respond from him! I was so happy, but that's all la. No more after that. :(

He doesn't want anyone to disturb him when he is trying to read a book by himself. When you help him, he will turn the pages or even throw the book away. Maybe he thought that we wanted the book, so he let go off the book?

Many times when I see someone trying to take things from him, he will walk off. The other day at the Farm, I looked from far, my other nephew snatched a card from him. So he ignored that guy and took another card and he snatched it away from Jayden again and again and again. And Jayden just ignored him and then left him with all the cards and no one to play with. (serve him right! ahaks!) So he has his own personality of "you want ah? naah take la! I malas wanna fight with you" that kinda attitude.

After a few days of observation, I decided to accept that Jayden is different. He has his own character. His own style. His own way of doing things. He, is just like me. He understand ( i hope) what people are saying but just choose to ignore us and sometimes it is very obvious that he purposely do what we asked him not to do to get attention and it is very obvious that he is very stubborn.

But imagine this, people have never seen him fighting or hurting other kids but they are already judging him saying that he is naughty. Same like those people that judge me based on how I looked. Well, can't stop them from making judgement. We sendiri know better. 

Nevermind, if people want to say that he is naughty let them say. As his mother, I will try to understand him and not call him naughty like other people did and also allow him to grow and progress at his own pace and not compare him with other kids. Instead, I should guide him, pay more attention to him and remind myself that I should be happy with him being healthy and normal. :)