Like I have said in my previous post, we're going off to somewhere for a weekend break. It was somewhere in Lenggeng Negeri Sembilan, called The Farm. It is my 2nd time here but the first for Jayden. I was here the last time when I was 6 months preggie with him.
The Farm is far from the busy place. No car. No Tall buildings. Just green.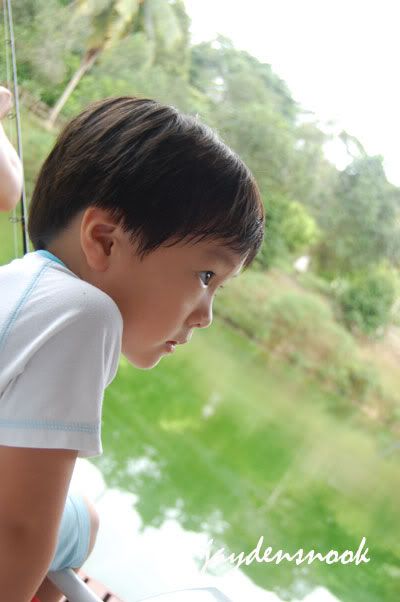 Love this shot of Adam...
We're greeted by the fruit Jayden love the most.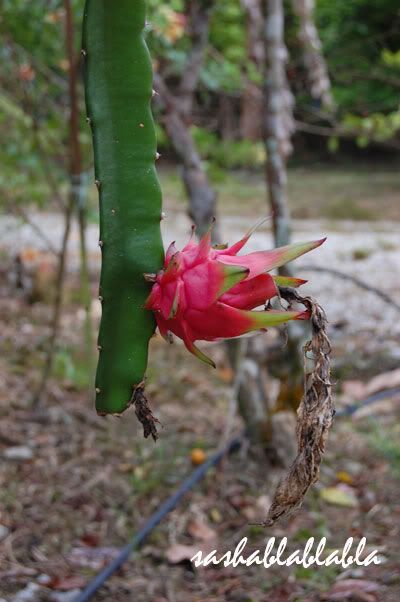 This was a ketot one. Didn't grow big enough.
It was dragon fruit blooming season. Flowers and lil fruits everywhere. None can be eaten...yet.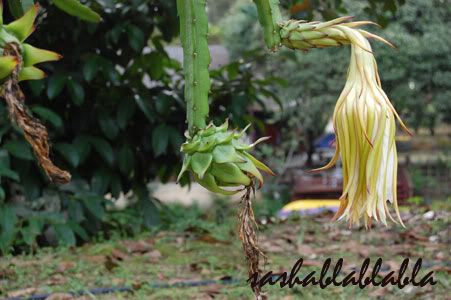 The flower and the fruit side by side.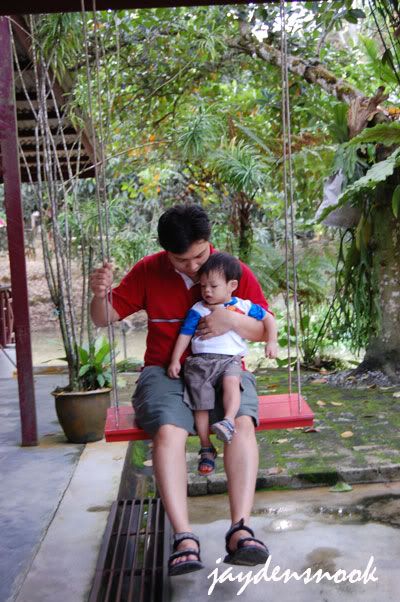 He loved the swing and once nearly fell asleep while I was holding him. It was a calm and peaceful moment when I held him in my arms and he requested me to stroke his soft hair....so nice.
But that was only for a short moment. As soon as he is awake from his nap (by the way he slept alot, mainly because whenever he sees the Elmo pillow I sew for him, he will lie down on it and then will fall asleep!) he starts to play by himself. The cousins wanted to play with him but he decided to run, and they chase after him. And that was what happened for 2 whole days. They chase, my son run and syiok sendiri! *sigh*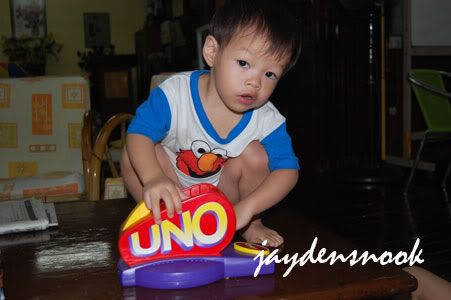 This is the little boy, on the table trying to wait for the card to pop out after he press the button.
If the card doesn't pop out, lil boy will ...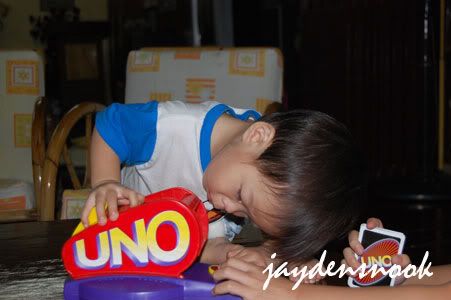 The environment is nice with blooming flowers everywhere...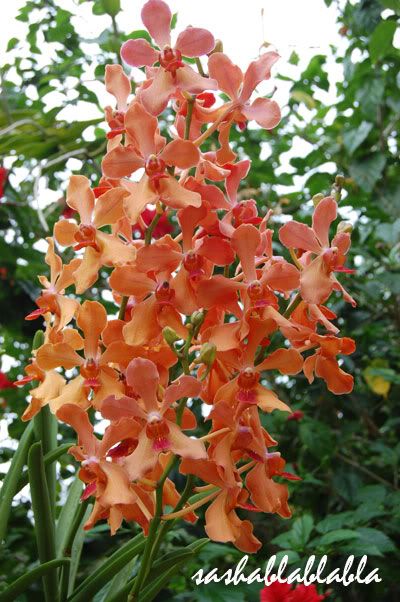 And bugs came out after the rain..
And it rained on the first day filing the monkey cup with water...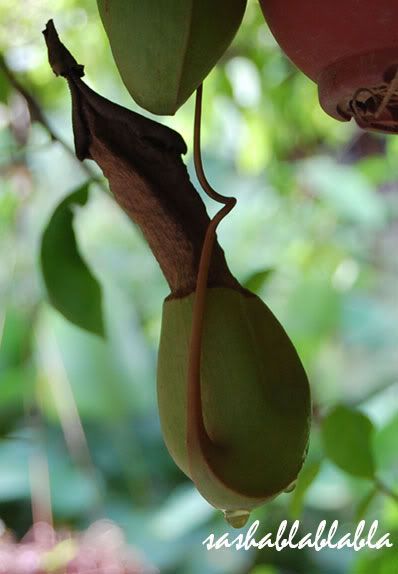 The aunties played mahjong like marathon...and sometimes you can hear them saying "Lai Liao! Lai Liao!" it means Come Edi! cos u can see this coming...
Little finger stealing the mahjong from under the table...
And aunties need to go for a break, and the little one will take over...
The kids fished the whole day accompanied with few adults..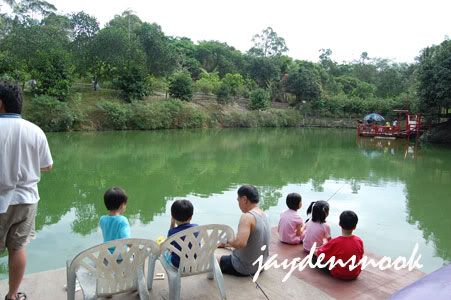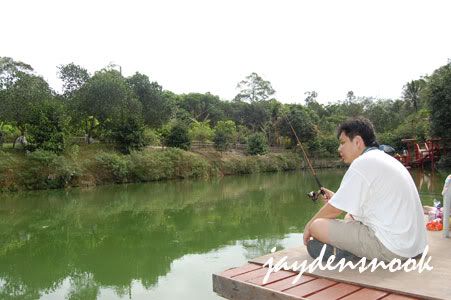 Dadi tried to fish too. It was very easy to fish in this pond cos there's alot of hungry fish in it. So its quite easy and entertaining for the kids and the adults too.
Did I tell you that there's alot of mozzie?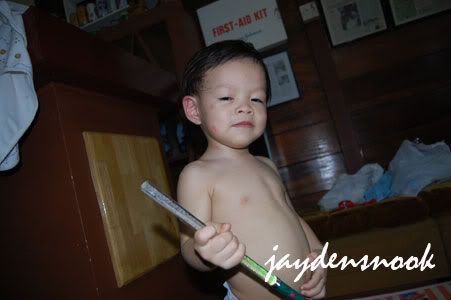 Just like how I have expected it...he got bitten left, right and centre even with mozzie repellent.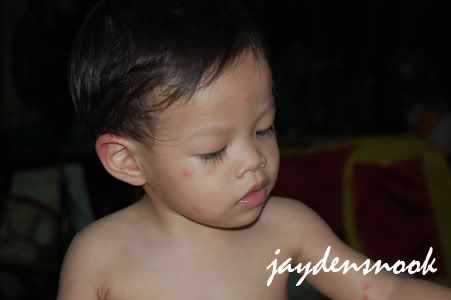 But he totally ignored it..and syiok sendiri again.
And all of us slept like refugees...maybe like mangsa banjir..but it was cool and happy moment for us.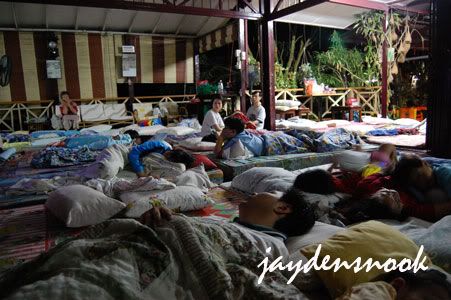 The funniest thing is, the first night I woke up shocked because Jayden was no where in sight. He climb over to my SIL's side and slept there. Both Big C and I nearly died of heart attack because it was open space and he could have fall into the pond or somewhere! So the whole night I held his leg and get no sleep cos he was climbing all over the place the whole night. The 2nd night was better, probably he got used to it after the first night.
My SIL brought some cookies and she let the kids decorate it.
As you can see, it looks so good and its very yummy. Oh yeah...Merry Christmas yeah...
But Jayden doesn't take sweets so....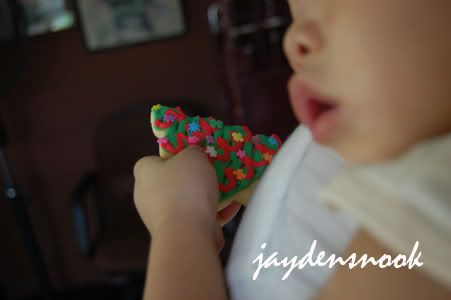 Yeah I ate it!
On our way back, I managed to take a pic of the dragon fruit farm.
I love this shot the most because the plants were all aligned and I was in a moving car when I took this. :)
Yeap that's about it. I was back at work yesterday but the line was totally out so no internet for the whole day. And when I am back home, the little one refused to let me touch my laptop. He pulled my hand away when I was typing and if I refused to do what he asked me to do (ie get away from the laptop) he will do his initial-D drfiting on the floor and guling guling like Hindustan actor.
I can sleep but nearly every night I will dream of my grandma or grandpa or dead body in coffin. Very tired after I wake up you know? I wish I can be like I-dream-of-genie and stop the time and just REST, lie down flat and don't move a single muscle. Can ah?