a haircut!
Poor guy, we're so busy before I gave birth so I'll just simply trim his hair for him. And after I gave birth, I can't cut his hair for him anymore. So that day we brought him to Ikano for a hair cut in KwikCut (the walkway between Curve and Ikano). We thought that he will scream and cry like the previous time in other barber shops. Instead, he was so excited and asked for us to let him off his stroller so that he can ride this...
Dadi was telling the hairstylist "okay, ready"
My lil kor kor refused to wear the cover, so we took his shirt off and the hairstylist managed to cut his hair with him moving around, examining the car.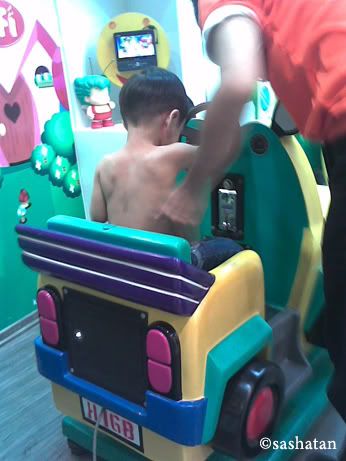 The haircut come with a complimentary ride on the car. In the end of the video, you can see that he's actually checking out his new haircut.


So finally, a non-crying + screaming haircut for my kor kor. Is it because of the car or because he is more matured now compared to the last time, we don't know. He even said "BYE BYE CAR, SEE YOU LATER" to the car. :)