He, never say hi or bye to me. But now, he's saying "Hi baby" every morning. Every morning he'll drag me out to accompany him at CL's room and climb up the cot and say "Hi baby..."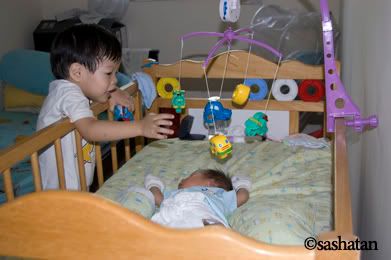 One day, he heard Justin crying and he ran from our room to his room. And he said "No cry....No cry..." and gently stroke Justin's head. And Justin stopped crying. That is like soo sooo sweet.
Yesterday, he was crying because we scolded him for something (too many things edi, forgot what was the scolding for) and Justin was sleeping next to me on the sofa. While he was crying, he can stop crying and stroke Justin gently and then continued to cry. Like that also can? Hahaha He's one funny kor kor.