That's how Lil J calls a Horse. The other day while waiting for everyone to arrive in
PJ Seafood
, we brought him to see and greet the horse. Yeah, they have a pet horse there. They also have a baby alligator, bird, tortoise, huge Fish and etc. Sounds like a zoo eh?
At first the "hos" was busy munching  grass far away from us.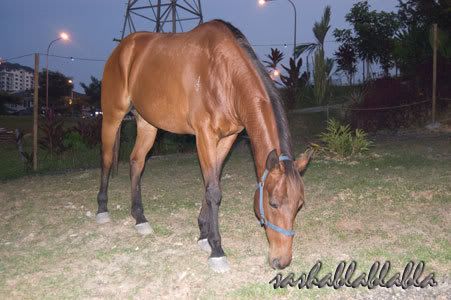 Soon he came nearer and nearer and lil J "ayang" the "hos".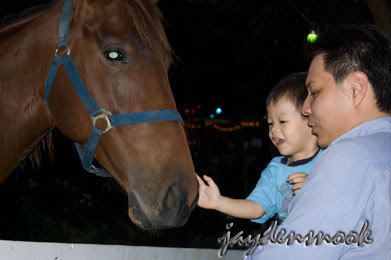 And the hos "ayang" him back.
I wanted a pic with the hos and Lil J. Then as I got nearer, the horse wanted to bite me. Big C also wondered why did the "hos" suddenly behaved differently. Since it was getting darker and darker, we decided to go into the restaurant and wait for the rest to arrive. As the horse went further away from us, then we know the reason why he wanted to bite me....


Ewwwww...........Not bad huh? I can even turn a "hos" on.