Time flies! Lil J will be celebrating his 2nd Birthday in 30 days time. In fact it's shorter than that cos I have something planned for him the weekend before his birthday which falls on a Friday. So maybe a short holiday on his actual day? *hint hint*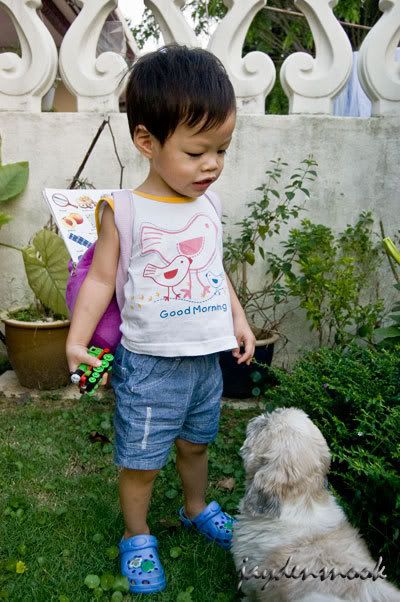 Lil J just got back from
work
nanny's house with his Barney bag and Henry train, greeted by his good friend, ChaCha Chan.
Ever since CNY, it's so difficult to bring him to his nanny. Once he see us in working attire ( i mean his dad not me- i dress casual to work :P) he will start to give flying kiss-crying! Once I drove and turn into the nanny's house, that's it. Havoc! So everyday we (Big C and I) will go to work feeling sad for making him cry like that. :( Lately his nanny told me that he refused to sleep. He will sit on the sofa and wait for me. Then he will slowly fall asleep. That's why when ever I go and pick him up at 6:45pm he will still be napping. Once i kiss him, he will wake up and start to ask me to wear his USH for him and wave bye. He knows the way home and on thw way back, must stop and snap his fingers (no sound la) and once reach he will hug his chacha and ask me to take out his shoes for him. Awwwww i miss him already!
He is definitely showing signs of Terrible Two Stage. Oh mannnnnnnnnnnnnnnnnnnnn! *pull hair* For those that have seen it before at
Barbara's open house
, you will know what I am trying to say. This is what he will do when he is upset or being stopped from doing whatever he planned to do. ie climbing the staircase, climbing the table, opening the drawers/cabinets and etc etc.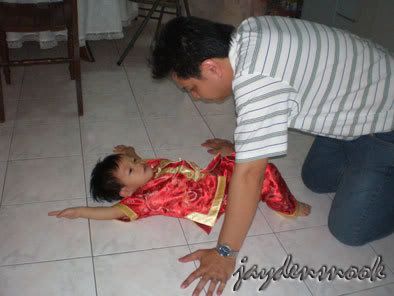 He will lie down on the floor, sometimes he will kick but most of the time he will just lie down and don't move. Normally we will just let him be and he will stand up within minutes and totally forgot about it. But the headache part is when he is with us in Pasar Malams or in supermarket!
He can understand us better now and know how to be scared (finally!). Let me tell you a story yeah,the other day while we're at my mum's place, Lil J asked me to open a mandarin orange for him. I said "NO" cos he just recovered from sore throat but he insisted that he want it. So he threw the orange at me again. I said "No, don't throw. Mami don't like, ok? And he did it again. So I said "OK. Mami is angry!" And I hid my hands under my armpit and looked away. Then my sister scare him by saying "Ohhh! Mami is angry with you!! Oh! Oh!" Then he started to cry and tried to look for my hands. Then he tried to sit on my lap, but I curled myself up like a ball, refuse to let him sit on my lap. He then tried to hold my face to look at him. I shut my eyes. He tried his best to korek my hands, my legs and my eyes, while crying like mad.
Then my sister said "You better sayang Mami and say sorry".
Then I felt someone stroking my head. And I looked up and I saw this facial expression. *melted*
He quickly hugged me and sat on my lap, quietly. So finally he is worried that I might not talk to him anymore. :P
He used to reject the block puzzle. He will play with the blocks but will throw it away once he's not able to chuck the block into the container. Seeing other kids like Malaika who can do it since many many moons ago, I wondered if Lil J is really like what my old Gynea used to say- slower than other kids due to my viral fever while i was carrying him. So lately he found the block puzzle and solved the puzzle himself. YAY! Must be the P&E juice that I have been feeding him!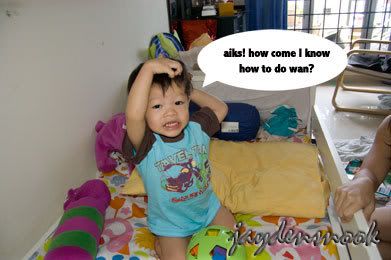 Wanna know what is P&E Juice?
His speech got a-lil-bit-better after cny. Maybe we spend more time with him compared to his nanny. But he is still ignoring me when I asked him to say PLEASE and THANK YOU. Why ah? Some of his favourite and new words:
NANA- Banana
Elli - Elephant
*roar* - Tiger
Chip Chip - Bird
CLUCK CLUCK - Chicken
UWAK - CAT (??? dun ask me why, he has his own language)
USH - Shoes
HOS - Horse
UP - Up!
BABY - for baby lor...
And i forgot edi..Itu brain memory not much left. Need to reformat it soon. Muahahhaha
Okay....one thing i musn't forget - TIME TO BRING HIM FOR A TRIM!
Wah i just realized between his 22nd and 23rd month update, there's only 4 posts. Damn slack of me I know. Maybe this time I will slot in 5 posts between his 23rd and 24th month update. hehehe