I know, I have neglected my blog for such a long time. Even when there's updates they are all sad updates. This year I hope I can blog more "fun" stuff. Bet you wanna know about my maid's story..Muahahhahaaha Anyway...here are some of the pics taken Dec last year.
27th December 2008.
The lorries came, Big C and Maid stayed at home and moved the stuff while I took the boys out to my sisters' place. We went to Sunway Pyramid for some quick shopping and I managed to snap some pics.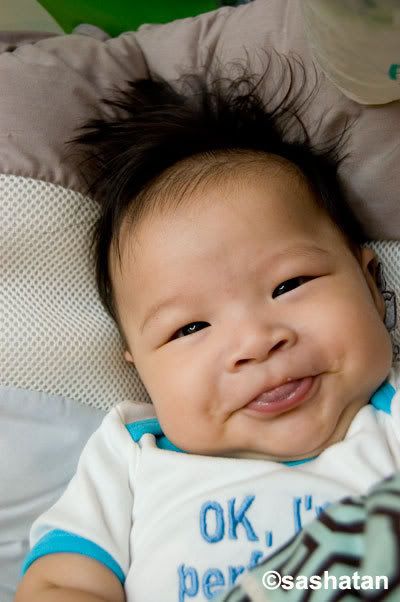 Look at my lil boy...He's more smiley now compared to last time.
He's even cheekier now..
That night, we rushed for Big C's Cousin's pre-wedding dinner in Pavilion. And since we're late, we walk like headless chicken that got lost in pavilion cos it was our first time there. After dinner, we went to the groom's house in Bangsar and sat for a while cos it was already so late and that night, we slept on the floor in our old house. Like nomad...haha
28th December 2008.
That morning we all went to attend Big C's cousin's wedding. Got the kids the same T-shirt.
(And since then Jayden has been requesting to have "Same Same" t-shirt with titi.) Of course, we're late again. The bride and groom were already in the house but the ceremony haven't started. *phew*
And we took the opportunity to ask one of the relatives there to help us to snap a family picture.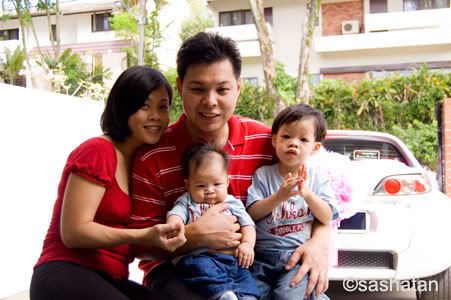 Nice?
Maid also help to snap 2 pics, but masuk longkang. The people is at the side of the picture. Thank god it's digital otherwise I don't know how much flim she's gonna waste. hehe
Then at 12 plus we rushed back to our old house and pack some more things and at 115pm we officially step into the house. (Fung Sui timing wor...follow ler.They count count, say very ong timing.) Then we unpack some more and then at 6 plus we rushed to Putrajaya for the actual wedding dinner. It was in the grand ballroom and Justin was chirppy and giggly, looking all handsome in the shirt I bought for him looooong looong time ago when he's still in my tummy.
THis is his first reaction when he see someone with a camera.. and then he'll
try and grab your camera for a quick bite!
After that, we stayed in the old house for a few nights like nomad and finally moved in and slept in the new house for real on the ........ forgot when. Anyway That's a wrap for 2008. 2008 had been a very tiring and challenging year for the 3 of us (with Jayden being rejected by nanny, me pregnant, Jayden started sch, Justin's arrival) I hope that this year 2009 will be a good, fun and peaceful year for us.