This morning, I was preparing myself to go work for the last time in 2007 and suddenly I heard......
"MEH MEH!!! UWAAAAAAAAAAA!!!!!!!"
So I rushed out and found him like this...
.
.
.
.
.
.
.
.
.
.
.
.
.
.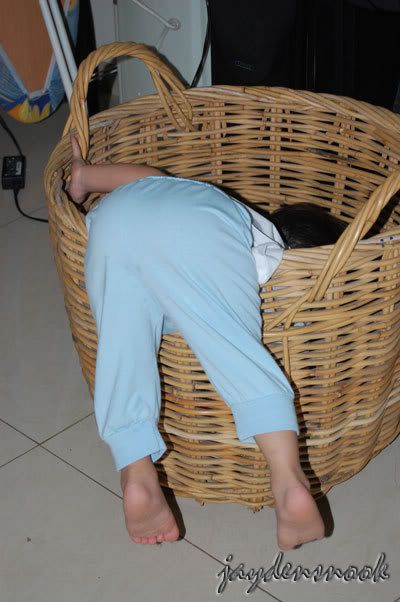 Hahahahahhahahahahhahahhahahahahhahahahahahha!
He tried to take his puzzle in our laundry basket and got stucked , folded! Cannot come up, cannot go down! (btw, if you're wondering, he was the one that threw the puzzle into the basket)
Just like his last incident ( 
where he got caught in my pot
), I did the same thing! Took out my camera!
Wah!!! Sampai ber-sweating!
After that, he walked away....with a "malu" smile.
Yeah, I am BAD. But then if you save him fast then he won't learn his lesson right? hahaha
He, really made my day, the last day of 2007.
So till next year...
Happy
New
Year
!
Yum Seng!!!!!!